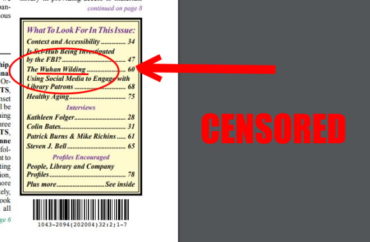 UPDATED
In mid-May, an opinion column discussing the origins of the COVID-19 virus written by a Winthrop University dean was retracted by a well-known library science journal. Days later, the school scrubbed any mention of the column from its official university archive, with a provost calling it "ethnically offensive."
The column, titled "The Wuhan Wilding," was written by Winthrop Dean of Library Services Mark Herring and included references to the "Wuhan virus," as well as a personal story of his daughter once at an upscale restaurant in China that served dogs. Herring writes that a friend jokingly referred to COVID-19 as the "Kung Flu."
The article appeared in the April 2020 edition of Against the Grain, a journal meant primarily for librarians.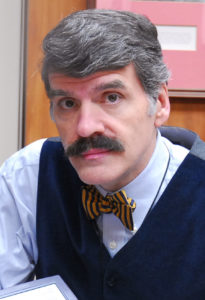 Herring (pictured), who is set to retire on June 30, told The College Fix via phone that his columns, which have run in Against the Grain for 16 years, typically deal with library issues, but he said "occasionally I'll go off the beaten path and write about something else."
Herring said he was trying to get across three primary points in the column: To remind everyone where the virus came from, to show that a crisis brings out both the best and worst in people, and to demonstrate what really matters in life.
"It's all well and good to call it COVID-19," Herring told The Fix, "but in five years nobody's going to remember that it came from China, and I thought it's important that we remember that, at least, had things been different, we might not have had to go through a full lockdown."
But on May 12, Against the Grain retracted the article and apologized for its publication without giving a specific reason for the retraction. The column was removed from the website and the print copy of the journal posted to the site had the offending page removed, while still promoting the column on its front page.
Editors for Against the Grain did not respond to a request by The Fix to comment for this story.
At the time, a number of librarians had taken to Twitter to complain about the column, saying there was not sufficient vetting before publishing it.
Herring said the article was fully vetted and edited, as he sent the article in, the journal returned it to him with suggested changes, and he sent it back after making those changes.
For sixteen years of so I have written for a professional library publication called Against the Grain. I ran a couple of conferences for them and also served as guest editor for two thematic issues. Additionally, I edited an commented on dozens more.

— Mark Y. Herring (@Kipper56) May 19, 2020
As for his campus colleagues, Winthrop Provost and Executive Vice President for Academic Affairs Adrienne McCormick sent an e-mail to the entire campus condemning Herring's column.
While reinforcing the school's commitment "to academic freedom and inclusive excellence," McCormick wrote that Herring's column "included comments that may be viewed as ethnically offensive relating to the COVID-19 virus."
"These remarks do not reflect the spirit of Winthrop's mission and do not represent the views of Winthrop University," she wrote.
Herring said the message was hypocritical.
"It's amusing to me that the Left wants free speech, just not this free," Herring told The Fix, calling it "the usual sort of liberal claptrap."
"The importance of both academic freedom and inclusion work on college campuses warrants commentary when they seem to be placed in opposition to one another," said McCormick in an e-mail to The Fix. "They are not in opposition to each other on our campus or in this situation, and thus it was important to note that to the campus community," said McCormick.
In an e-mail, McCormick notified Herring that the column would be removed from the Winthrop Digital Commons database, a repository of academic works written by faculty members that have either been published or were scheduled to be published.
In addition to the column that ran, McCormick pulled a column written by Herring that had not yet been published that also dealt with the origins of COVID-19. In the column, titled "Work in the Wuhan Wilderness," Herring refers to working from home as "Chinese torture."
In the e-mail, a copy of which was obtained by The Fix, McCormick told Herring his articles were being removed because it was unclear whether he was speaking for himself or the university.
"Based upon the AAUP guidance from 1990, our policy is clear that it protects the rights of individuals to their personal opinions as citizens, as long as they make clear they are not speaking from their positions as representatives of the institution," she wrote, adding:
"That was not the case with this piece, nor in your subsequent posts on Twitter. Our policy also protects faculty to pursue their scholarship and pedagogical approaches without interference. Since this column was not based upon your expertise in librarianship, but was rather a statement of your opinion on the origins of the COVID-19 virus–as you averred to me in our conversation–it does not seem appropriate for the Digital Commons, since you have no expertise in that area."
McCormick told The Fix after reading Herring's column, she did "not believe it to be scholarly or creative work that demonstrates expertise."
"Rather, it is an opinion piece, which I also clarified to our campus community through my message," she said, adding that opposition to the column was made known to Winthrop "by way of social media and email from faculty, students, alumni and individuals outside of the institution."
Herring told The Fix that prior to the removal of his columns, nothing had ever been removed from the Digital Commons, despite the database housing over 20,000 pages of work.
Herring's column was also condemned by the Asian/Pacific American Librarians Association in a letter which was backed by the American Library Association.
Calling the column "appalling" and "disgusting," the association deemed the comments in Herring's piece "deeply offensive," saying they "perpetuate harmful stereotypes of Chinese people as disease carriers who eat wild and unsanitary animals."
"This is especially dangerous since we do not know what officially started/caused the disease," the letter states.
China's "wet markets" are a highly speculated source of the initial spread of COVID-19, according to The Wall Street Journal.
"You know and I know that because the president has called it the 'Chinese virus' and the 'Wuhan virus,' that's what people are responding to," Herring said. "This is more of the Trump derangement syndrome that affects the left in this country, particularly at universities."
"I didn't expect to get a gold watch when I left here, but I didn't expect a kick in the shins either," said Herring about his retirement.
This story has been updated to add the comments of Executive Vice President for Academic Affairs Adrienne McCormick.
MORE: Taiwanese professor forced to apologize for using term 'Wuhan virus'
Like The College Fix on Facebook / Follow us on Twitter