Proponents and advocates of critical race theory in America's Dairyland have an event to look forward to next month: a two-day symposium on white privilege.
University professors, employees and public school teachers, staff and district administrators alike all maintain spots on the host planning committee for the La Crosse, Wisconsin, "White Privilege Symposium," set to take place in early December.
Attendees are asked to spend $100 a pop per adult ticket to go to the event, (whether it be virtually or in person) to learn about white privilege, racial oppression, critical race theory and other ideas involving ingrained inequities.
On the other hand, students benefit from a reduced rate of $75 for symposium admittance. It is unclear where ticket proceeds are going.
The team hosting the conference is known as the "Waking Up White Collaborative," which is notably composed of academics employed by public universities as well as people working in K-12 school systems — from principles to professors — and other roles in between.
In fact, a principal of a La Crosse middle school resides on the Symposium Host Planning Committee.
The College Fix attempted to contact multiple members involved in the "Waking Up White" collaborative that have jobs either in K-12 or higher academia. Most ignored requests for comment.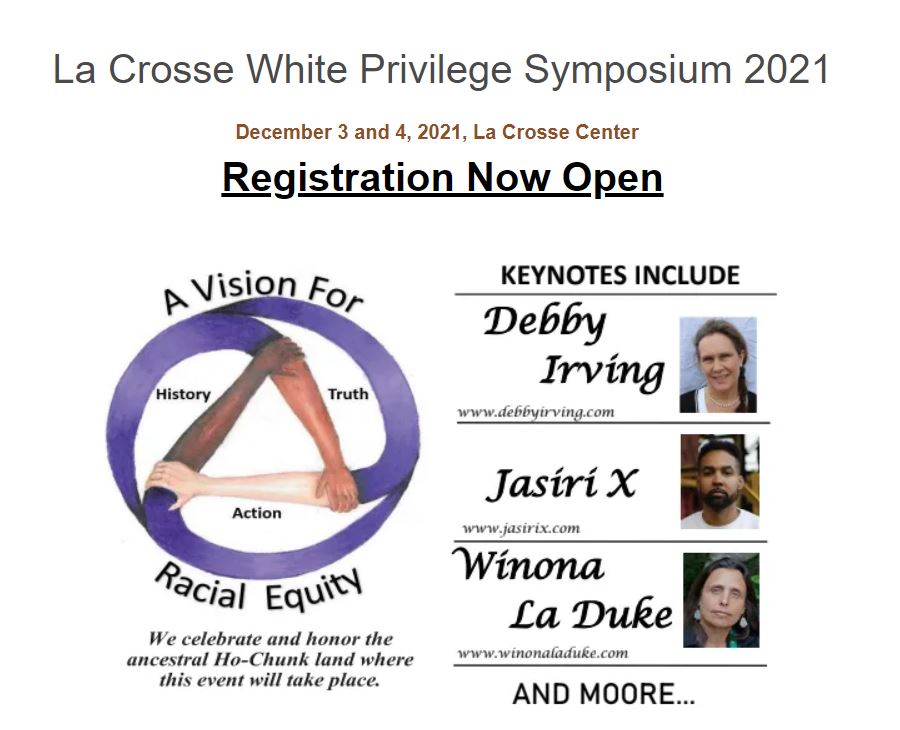 The event is set to showcase a trio of keynote speakers — all of which appear to subscribe to critical race theory in their rhetoric.
One is Debby Irving, racial justice educator and writer. Irving penned the critical race theory literary staple "Waking Up White," the underlying text behind the Wisconsin collaborative.
Another keynote will be by Muslim hip-hop artist Jasiri X, who uses music as a form of political activism.
The final keynote speaker, Winona LaDuke, is a Native American political activist dedicated to pushing the narrative that U.S. soil sits on stolen land. She grows hemp and is a writer. LaDuke is a Harvard graduate.
Lincoln Middle School Principal Melissa Murray is one of many educational professionals in the area on the committee that organized the event. Lincoln Middle School is a Montessori-style school in La Crosse, Wisconsin.
The College Fix emailed Principal Murray, who said her role on the Waking Up White committee is beyond and separate from her role as principal and to use her personal email address for such correspondence.
"I serve on this committee as a community member and not in my school capacity, therefore, this would be the correct email address to use for future connections, and any time we might spend would need to be outside of my workday," she wrote to The Fix.
Over at the nearby publicly funded University of Wisconsin La Crosse, several employees on the payroll at the school are on the committee — all of which The College Fix made an effort to contact.
The College Fix attempted to contact Joshua Hertel, mathematics and statistics professor, to inquire about the professor's role in facilitating and planning the upcoming event. No inquiries were answered throughout October.
Michael Slevin is assistant director of University Centers, according to his profile — and sits on the committee, too. No inquiries were answered by Slevin, either.
Thirdly, the university assistant director of the school's Office of Multicultural Student Services, Thomas Harris, maintains a seat at that round-table. Harris also refused email inquiries asking about anticipations for the event.
Also on the committee is Laura Abellera, a race, gender and sexuality studies lecturer. She did not answer any inquiries, either.
To those unfamiliar with white privilege, the coalition refers prospective attendees to the nearby Privilege Institute for a proper definition.
It is a Badger State-based nonprofit committed to addressing white privilege by educating individuals and academics interested in anti-racism.
According to the institute website:
"We represent a diverse and multi-disciplinary network of activists, educators, youth leaders, and anyone interested in disrupting the systemic structure of white supremacy, white privilege and other forms of oppression that impact all of our lives."
For example, it publishes an academic journal titled Understanding and Dismantling Privilege.
It also hosts trainings in the name of anti-racism under the (unofficial) moniker of "Diversity University," though the branch of the nonprofit is not an actual university.
"The Diversity University & Moore is The Privilege Institute's department of research, training, education and consultation. DPL & Moore training provides participants with practical skills, tools and strategies for addressing complex and challenging issues related to diversity, power, privilege leadership and inclusion."
To attend the symposium in person, either a negative COVID-19 test or a proof of vaccination is required.
MORE: Check out our cancel culture database
IMAGE: Shutterstock
Like The College Fix on Facebook / Follow us on Twitter