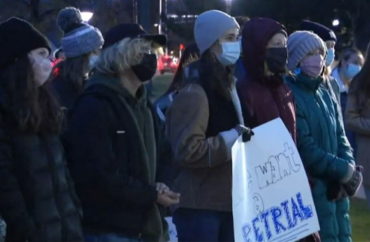 'If Kyle Rittenhouse was a black man … he would have been found guilty today'
In response to the not guilty verdict in the Kyle Rittenhouse trial, students attending Lawrence University, a liberal arts college in Wisconsin, held a protest, calling it a travesty of justice.
Several dozen students converged at the Appleton, Wisconsin campus, which is about 150 miles north of Kenosha. They chanted and held signs comparing the verdict to the cases of Tamir Rice and Trayvon Martin and called for a "retrial."
"If Kyle Rittenhouse was a black man … he would have been found guilty today," student Anders Hanhan told WBAY, which covered the Nov. 19 event.
Hanhan, whose Twitter bio describes him as an "eco-socialist," posted a few days prior to the verdict that "Kyle Rittenhouse did not act in self defense the same way that Derek Chauvin did not act in self defense. Period. #NoJusticeNoPeace."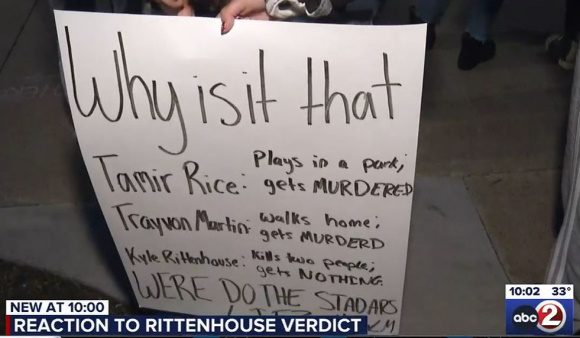 Another student, Gustavo Zuniga, told the news station: "We just want to show our solidarity with people in Kenosha right now. We're up in Appleton, and we just want to show that people up here in the Fox Valley are supporting the people fighting for this change in Kenosha right now."
While some students in Wisconsin voiced their anger over the verdict, there are other students who did not take part who said the protest was not surprising.
"Our campus overall leans towards pretty liberal views and many students feel strongly on sharing their opinions surrounding national events such as the trial and verdict," Stephaune Haylock, a sophomore at Lawrence University, told The College Fix. 
According to Haylock, the protest was not a large event on campus.
"Also, their protest at the end of the day doesn't make much of a difference in the grand scheme of things," he said, noting Rittenhouse cannot be tried again for the same crime. "But if it makes them feel more empowered, so be it."
Zach Leslie, another Lawrence University sophomore, said he also was not surprised to see students openly against the verdict.
"It was a controversial trial and it didn't go the way most LU students tend to lean so I assumed many would be upset," Leslie told The College Fix.
A Lawrence University spokesperson did not respond to requests from The College Fix seeking comment.
IMAGE: University Instagram post says Rittenhouse killed 'two beautiful black lives'
IMAGES: WBAY screenshots
Like The College Fix on Facebook / Follow us on Twitter