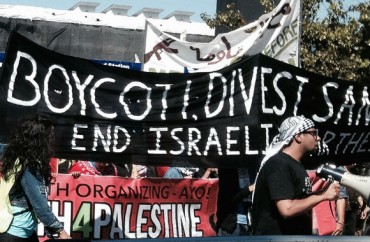 UPDATED
Critic: BDS backers have no 'awareness of history' or 'respect for the accuracy' of their message
Another academic association has come out in favor of the boycott, divestment and sanctions (BDS) movement, which targets companies and institutions operating in Israel.
The National Women's Studies Association, with more than 2,000 individual members and 350 institutional members, voted to endorse a far-reaching resolution at a Nov. 27 meeting.
"As feminist activists, scholars, teachers, and public intellectuals who recognize the interconnectedness of systemic forms of oppression," the resolution reads, "we cannot overlook the injustice and violence, including sexual and gender-based violence, perpetrated against Palestinians" and other Arabs.
The resolution cites not only those currently in the "West Bank, Gaza Strip, within Israel and in the Golan Heights" as oppressed, but those displaced "during the 1948 Nakba," the term favored by Palestinian supporters to refer to the war that accompanied Israel's creation.
84% of Palestinians want adulterers stoned to death – that's why feminists want to #BDS Israel… https://t.co/HVh4f1oo4c @timesofisrael

— Petra Marquardt-B. (@WarpedMirrorPMB) December 2, 2015
The association threw in "academic rights to free speech, assembly, association, and movement" as Palestinian rights that are violated "daily" by Israel.
Though only 35 percent of association members voted, 88 percent of those supported the resolution – 653 to 86 in opposition.
RELATED: Academic association votes 1,040-136 in favor of anti-Israel BDS resolution
The resolution page says it was developed by an "ad-hoc group" called Feminists for Justice In/For Palestine, founded at the association's 2014 conference in Puerto Rico ("an occupied territory where sovereignty struggles continue").
BDS activists in the women's studies movement first showed their strength at that conference, where a plenary session on Palestine (featuring the former Communist Party USA leader Angela Davis) recorded "a majority of more than 1,000" attendees favoring a BDS statement.

That statement read: "Our members actively pursue a just world in which all persons can develop to their fullest potential: as feminist scholars, educators, and activists, for example, we advance critiques of misogyny, gender violence, settler colonialism, homophobia, Islamophobia, ableism, classism, and all forms of racism, including anti-Semitism and anti-Arab racism."
The US National Women's Studies Association to join #BDS https://t.co/6CmL5xkz05 Well done ladies! #Solidarity pic.twitter.com/AwtvFYlThc

— #ThirdIntifada (@jdot979) December 1, 2015
The association did not respond to College Fix questions on what study of the issue was done beforehand. It appears that no prior report or extensive research was circulated among members before voting.
The women's studies move follows last month's lopsided vote by the much larger American Anthropological Association to boycott Israeli academic institutions. That resolution came for a vote after the group commissioned a task force to study the issue, though task force members had little experience in Middle Eastern affairs.
Other academic associations backing BDS are relatively small.
RELATED: Israel boycott being considered by large academic group with scant experience in Palestine
Meanwhile, some academic groups are criticizing the NWSA's support for BDS.
Ahead of last month's vote, the anti-BDS group Scholars for Peace in the Middle East released a statement in opposition, written by an NWSA member.

"While I can convey my progressive politics in Jewish groups, increasingly, I do not feel I can express my Jewish voice within the progressive community, including NWSA, which has been one of my homes for many years," wrote Janet Freedman, a resident scholar at Brandeis University's Women's Studies Research Center.

She claimed there had been little dialogue or discussion on the Israel-Palestine issue within the association, and accused it of oversimplifying the situation by using terms such as "colonizing" and "imperialism."
"I am aware and saddened that the zeal with which many come to their position on BDS is often in contrast with an awareness of history, or a respect for the accuracy of the information brought to their advocacy," Freedman wrote.
Janet Freedman explains the @nwsa BDS vote. https://t.co/rCqVP3pC20 pic.twitter.com/evYfSszcxp

— brandeis.hbi (@brandeis_hbi) December 2, 2015
The National Council of Jewish Women also came out in opposition to NWSA's resolution.

"NCJW believes strongly in open dialogue in order to achieve human rights, women's rights and gender equality, even when that dialogue is challenging," according to a statement last week.
RELATED: More Than 300 Scholars, Librarians Pledge Academic Boycott of Israel
Debbi Solomon, director of marketing and communications for NCJW, told The Fix in an email that the group is gathering signatures for a letter that it will draft and send to NWSA in response.
It is "deeply disappointed to find an academic organization committed to feminism—and the challenge to oppression that feminism represents—closing the door to Israeli feminist thinkers and scholars, including Israeli-Palestinian women currently studying in these programs," Solomon wrote.
The NCJW statement continued: "By blocking Israeli academics from the international feminist community, the NWSA is sending the message that they have no interest in connecting with the very people who are trying to achieve peace and equality for all," the Jewish group said.
The NWSA resolution is "offensive and contrary" to its purported "commitment to intersectionality" with feminists of all stripes, NCJW said. "Boycotting universities, denying free speech and discouraging critical thinking on campuses is never the answer."
UPDATE: An email comment from the National Council of Jewish Women has been added to the story.
RELATED: America founded upon 'domestic terrorism,' GMO-hating Angela Davis tells students
Like The College Fix on Facebook / Follow us on Twitter
IMAGE: Alex Chis/Flickr