A gender, sexuality and women's studies scholar recently called President Donald Trump a "joke" and wished "someone would just shoot him outright" in a tweet.
"Trump is a f*cking joke. This is all a sham. I wish someone would just shoot him outright," tweeted educator Kevin Allred from his personal account Friday night.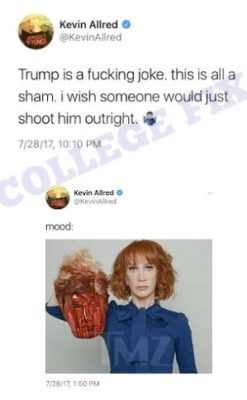 Earlier that day, Allred also tweeted the infamous picture of comedian Kathy Griffin holding a decapitated model of Trump's bloody head under the word "mood."
Allred, who has a history of controversial tweets, was listed as an adjunct instructor in the Gender, Sexuality, and Women's Studies program at Montclair State University as recently as July 29, according to a screenshot of the university's website.
His bio disappeared from Montclair's website after The College Fix sought comment on his latest tweet. Allred did not respond to requests via email and direct message for comment.
After Allred tweeted his presidential assassination sentiments on Friday, he received reaction — and some backlash. He quickly deleted the tweet, but continued to defend it, asserting just 25 minutes later in a tweet: "saying you wish donald trump was dead is different than making a direct threat against him. just saying…"
It is not uncommon for Allred to tweet disdain for Trump. He has also stated on the social media platform that "Donald Trump is a traitor and a terrorist. Happy Saturday!" and "Donald Trump makes me ashamed to be a human being."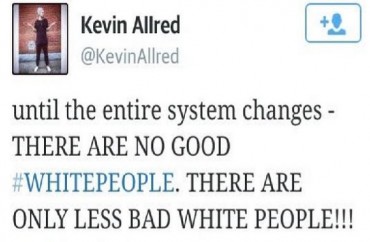 In 2015, Allred also tweeted that "until the entire system changes there are no good white people. There are only less bad white people." He responded to The College Fix's request for comment at the time by saying whiteness "plays an invisible role in dominating and oppressing everyone else. And I'm speaking about a U.S. context specifically here."
Allred has made headlines for teaching a popular class at Rutgers University about the politics surrounding the pop icon Beyonce. But he once again gained the spotlight for his tweets in November 2016 after he tweeted: "Will the Second Amendment be as cool when I buy a gun and start shooting at random white people or no …?"
It was inspired by a classroom conversation he had with students right after the November election, according to a column Allred wrote several weeks ago for The Establishment:
Our class conversation jumped from topic to topic that day. Some students shed tears. Some expressed outrage. Some were shocked to silence by the election results. We commiserated in a friendly fashion. At one point, I made a jocular, off-the-cuff comment about the Second Amendment and police brutality, insinuating that conservative white people and the NRA would care a lot more about gun control if they were constantly being shot at. Students laughed. It would be a stretch of any imagination to consider it a threat. I tweeted a similar comment later as well, framed by the events of my day and by my personal frustration with the election results.
After the tweet about shooting random white people went viral, he defended it by saying there was "ZERO direct threat involved" and that it was rhetorical. He also said the tweet "was a hyperbolic question posed to show a double standard."
Nevertheless, a complaint to Rutgers University prompted a mandatory psychiatric evaluation.
A Rutgers official said at the time "we take those allegations very seriously and have an obligation to investigate." Twitter also reportedly responded by suspending Allred's account until he deleted the "tweet in question."
Allred did not teach during the spring semester at Rutgers, and eventually lost his teaching gig there over the entire affair, he wrote in The Establishment.
Like The College Fix on Facebook / Follow us on Twitter
Like The College Fix on Facebook / Follow us on Twitter