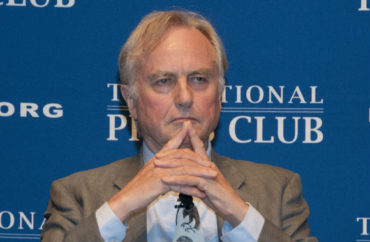 'The Perpetually Offended' score a scalp
Richard Dawkins' biggest critics used to be conservative Christians. Now they're Berkeley progressives who defend anything and everything Islamic.
The militant atheist, evolutionary biologist and former University of Oxford "professor for public understanding of science" was supposed to speak about his new collection of essays at a Berkeley church, sponsored by a local progressive radio station, KPFA.
Then the station learned about his tweets critical of Islam and cancelled the Aug. 9 event.
University of Chicago evolutionary biologist Jerry Coyne posted the email KPFA sent through the ticketing agency announcing the cancellation – before it informed Dawkins:
We had booked this event based entirely on his excellent new book on science, when we didn't know he had offended and hurt – in his tweets and other comments on Islam, so many people.

KPFA does not endorse hurtful speech. While KPFA emphatically supports serious free speech, we do not support abusive speech. We apologize for not having had broader knowledge of Dawkins views much earlier.
MORE: Co-discoverer of DNA disinvited for once criticizing Africa
Dawkins told Coyne the station was daft if it thought any of his tweets were "abusive" toward Islam, saying his only "possibly" abusive tweet "this year" was about President Trump:
When I lived [in Berkeley], they were the good guys and I listened to their station almost every day. They were scrupulous in their fact-checking in those days – how sad that they have come to this …
Coyne also posted the protest letter he sent the station. He said he was "sure that some of the Perpetually Offended, with perhaps Muslims among them, complained to the radio station, and KPFA caved."
To @kpfa with compliments: "Offence is the last straw the faith-heads clutch when they run out of rational arguments" – @RichardDawkins pic.twitter.com/SPklsrsDyN

— Peter Gandolfi (@It_IsraHumanism) July 21, 2017
Friendly Atheist blogger Hemant Mehta says he's criticized Dawkins many times for his tweets, but being "de-platformed" for a science talk is a different matter:
The world's most famous atheist criticized Islam and upset people… so he can't give a talk about science? It's a ridiculous reason that gets even more absurd when you consider the source. …

Dawkins isn't someone who goes around targeting people with hateful or abusive speech. Dumb speech? Absolutely. Offensive speech? Yes, though that's impossible to avoid when your topic of choice is religion. But hate is in the eye of the beholder, and most of his critics take single tweets more literally than he ever intended.
MORE: Atheists target Christian prof for history of science curriculum
Mehta noted the larger Berkeley community has a history of antagonism toward militant atheists, with UC-Berkeley's speaker invitation committee disinviting comedian Bill Maher from commencement (the administration ignored it):
So much for free speech in Berkeley. If Dawkins is too bigoted for their tastes, the list of people who are allowed to discuss controversial topics must be incredibly thin.
Scientists have faced high-profile disinvitations and retaliation in recent years for their social commentary.
British Nobel Laureate Tim Hunt of University College London resigned his position two years ago when a Twitter mob attacked him for his joke about falling in love with female colleagues. The college said "this outcome is compatible with our commitment to gender equality," but its approval of the campaign against Hunt led a donor to excise the college from his will.
More recently, co-discoverer of DNA James Watson was de-platformed by the University of Illinois following a threatened faculty protest because of a past comment about how African intelligence evolved. He was supposed to give a lecture on his cancer research.
Read Coyne's and Mehta's posts.
h/t Greg Lukianoff
MORE: PC Twitter mob forces resignation of Nobel Prize winner
MORE: Dawkins defends 'mild pedophilia'
Like The College Fix on Facebook / Follow us on Twitter
IMAGE: Albert H. Teich/Shutterstock
Like The College Fix on Facebook / Follow us on Twitter