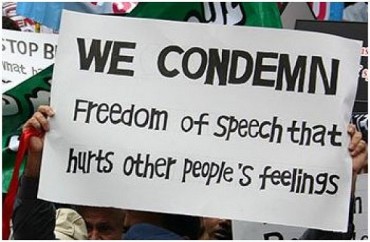 Yale Silliman College Associate Master Erika Christakis sent out an email Friday defending the right of students to wear costumes which may be "culturally appropriating."
You can probably guess what happened: Yep, over 400 members of the campus community signed a letter "stating that her 'offensive' email invalidates the voices of minority students on campus."
Offensive … ? Christakis's email argued that "students' rights to wear potentially marginalizing costumes [is] an expression of free speech," and noted that "the ability to tolerate offense is one of the hallmarks of a free and open society."
Wow — a member of the contemporary academy who actually understands what the First Amendment means. But that's offensive.
"Is there no room anymore for a child or young person to be a little bit obnoxious… a little bit inappropriate or provocative or, yes, offensive?" Christakis wrote. "American universities were once a safe space not only for maturation but also for a certain regressive, or even transgressive, experience; increasingly, it seems, they have become places of censure and prohibition."

In response, more than 400 undergraduates, graduates, faculty and alumni have signed on to an open letter to Christakis stating that her "offensive" email invalidates the voices of minority students on campus. The letter, released Friday night, states that Christakis misrepresented the Intercultural Affairs Committee's call for sensitivity as "censure." It also states that in describing the call for sensitive costumes as coming "from above, not from yourselves," Christakis implies that only administrators, and not students, have called for sensitivity.

Authored by Silliman student Ryan Wilson '17, who collected input from other students in writing the response, the letter asserts that Christakis "fails to distinguish the difference between cosplaying fictional characters and misrepresenting actual groups of people." Giving room for students to be obnoxious or offensive is only inviting ridicule and violence onto minorities at Yale, and decreases the space in which marginalized students can feel safe, he wrote.
Wilson, unsurprisingly, is expressing some of Critical Race Theory's provisions on restricting constitutional free speech protections.
Just keep in mind what 7th U.S. Circuit Court of Appeals Judge Richard Posner called CRT adherents: "the 'lunatic core' of 'radical legal egalitarianism.'"
Christakis appears to be a diamond in the rough when it comes to recognizing what a university should be about. Over two years ago, she and her husband took Oprah Winfrey to task for her Harvard commencement speech noting, among other things, that "Critics have taken [her] to task for years for her energetic shilling on behalf of peddlers of quack medicine."
"American universities need to do more, not less, to advance the cause of reason," the couple added.
No news yet from Yale on whether Christakis will face any of the usual sort of progressive discipline — like forced "sensitivity" training or "diversity" seminars.
Or, will she just be protested to the point where her job is in jeopardy?
Like The College Fix on Facebook / Follow us on Twitter
IMAGE: Sam Graham/Flickr