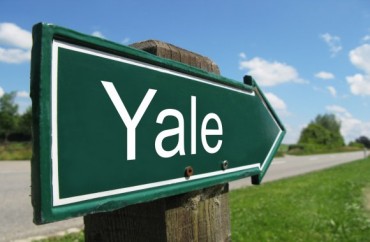 After a protracted battle, Yale's Calhoun College will finally — officially — be renamed to honor a military veteran.
Last April, the school had decided to retain Calhoun's name despite many protests; however, after a special task force "charged with applying broad renaming principles" recommended changing the College's moniker, the Yale Corporation — which has the ultimate say on such matters — agreed.
According to the Yale Daily News, the College will honor alumna Grace Murray Hopper, a US Navy Rear Admiral "who made pivotal advances in computer science."
"The decision to change a college's name is not one we take lightly," Yale President Peter Salovey wrote in a campus email. "But John C. Calhoun's legacy as a white supremacist and a national leader who passionately supported slavery as a 'positive good' fundamentally conflicts with Yale's mission and values."
Hopper, who is credited with inventing the first compiler for a computer programming language and posthumously received the Presidential Medal of Freedom in 2016, will become the second woman to be honored as a residential college namesake. Salovey said he and the Corporation did not choose from an official shortlist of names. …

Still, according to a community-wide email from Yale College Dean Holloway, the name change will not go into effect until July 1, giving the class of 2017 the option to graduate as members of either Calhoun or Hopper during commencement in May. But current juniors will graduate as Hopper students, and incoming freshmen will be placed into Hopper College.

MORE: Hundreds of Yale profs protest decision to keep Calhoun College name

In his interview with the News, Salovey said alumni will still be allowed to continue associating themselves with the original college name, by having "Calhoun" rather than "Hopper" written on their badges at reunions, for example. However, they will also have the option of changing their affiliation to Hopper College within Alumni systems if they wish, Holloway said.

And Salovey said he remains concerned that renaming buildings could erase Yale's history, describing the Calhoun case as an exception.

"People of good will and intelligence have many different perspectives on this question," Salovey said. "We need to respect history and there needs to be a strong presumption against renaming."
A Daily News survey in August 2015 showed that 45% wanted to retain the Calhoun name, with 40% favoring a change. However, among respondents who identified as black, 60% wanted a name change.
After last year's decision to keep "Calhoun," President Salovey had written "Erasing Calhoun's name from a much-beloved residential college risks masking this past, downplaying the lasting effects of slavery and substituting a false and misleading narrative, albeit one that might allow us to feel complacent or, even, self-congratulatory."
MORE: Yale decision on Calhoun sparks concerns about personal attacks, free speech
MORE: Should Yale rename itself? Founding benefactor Elihu Yale was slave trader
Like The College Fix on Facebook / Follow us on Twitter
IMAGE: Shutterstock