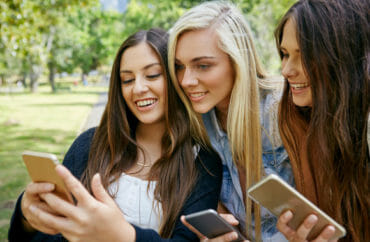 UPDATED
Spurred by their 'palpable animosity' against his conservative views?
Two female students at Yale formally accused a male student "only minutes apart" on the same day, saying he groped both of them on a bus and one of them months earlier in Paris.
They teamed up again by coordinating their testimony against the male – "who has been a conservative columnist for the Yale Daily News" – during the Title IX hearing itself, according to the accused student's new lawsuit against Yale.
"John Doe," whose parents immigrated to America in 2011, claims Yale found him responsible for sexual misconduct in spite of the fact that three witnesses walking behind him and "Jane Roe" in June 2016 in Paris did not see the alleged groping.
A few months later, nearly 20 witnesses also failed to notice Doe's alleged groping of Jane Roe and her "longtime" friend "Sally Roe" on "a chartered bus from Yale to Harvard" for the Ivy League schools' football game, according to the suit. It specifies that the bus trip had no connection to the university.
As a consequence of his two-semester suspension, handed down late last month, Doe also got kicked out of Yale's Brady-Johnson Program in Grand Strategy "and employment with a well-known highly respected Wall Street Investment Banking Firm" scheduled for this summer:
The summer position would have been Plaintiff's second consecutive summer position with this firm which is a precursor to a full-time position following graduation in May 2019. The marking of Plaintiff's academic transcript with two semesters of suspension for a violation of student conduct policy will permanently deny Plaintiff educational and career opportunities. Moreover, Plaintiff has been ostracized from his friends and from the campus community, made a social pariah, and forever damaged emotionally by the excruciating and unfair process and the terribly unjust results flowing therefrom.
Questions on 'the political climate' nixed
The policy under which Doe was investigated was "drafted, approved and authorized almost entirely by women's groups and women representatives at Yale," and it never defines groping, the suit claims.
It adds that "upon information and belief," more than 70 percent of the current University-Wide Committee on Sexual Misconduct membership is female.
The suit portrays the allegations against Doe as likely the result of "palpable animosity towards him because of his political views" as expressed in the Daily News.
MORE: Yale is more dangerous than Detroit? Sex assault report suggests it
When he testified before the hearing panel about "what he perceived to be rejection by the students on the bus trip" because of his conservative views, a panel member started a line of questioning about "the political climate at Yale."
The UWC's counsel "suddenly" kicked Doe and his adviser out of the room, and when they were allowed to return 10 minutes later, the political line of questioning never came back up.
Yale student targeted with 'groping' allegations because he's conservative, suit says by The College Fix on Scribd
A 'long hesitation' and an admission
Jane Roe also accused Doe of creating a "hostile environment … for countless women at Yale," and said he was "groping every woman on the bus" to the game. All the women on that bus were interviewed and none other than Jane and Sally said Doe groped them, according to the suit.
Sally's lone accusation that Doe groped her on the bus was also not backed by witness testimony, according to the hearing panel. The suit says Sally's father "was a well-known faculty member at Yale" and Jane's father was a "published legal scholar" and "frequently was quoted as a Yale alumnus."
Doe alleges that the "fact-finder" who investigated the allegations improperly included "unrelated hearsay and derogatory character statements" about Doe in the final report that weren't related to the allegations. He didn't learn about the specific allegations until the fact-finder's report was given to him shortly before Thanksgiving.
The suit describes how Doe learned that Jane and Sally (the "complainants") appeared to have coordinated their testimony:
As the hearing progressed, John Doe's advisor heard one of the complainants make a statement identical to the complainant who had just been before the panel, even referencing what her friend had just said. John Doe's advisor sent a text to the UWC Coordinator to ask if the two complainants had been allowed to listen to each other's testimony throughout the hearing.
The secretary of the UWC later confirmed that both Sally and Jane could hear the entire proceeding live, and the UWC's counsel said the committee didn't have to follow "proper protocol with regard to sequestering witnesses" because Doe asked for a single hearing panel to hear both complaints, according to the suit:
Allowing the complainants to reference each other's statements to the hearing panel to influence and further support her own individual complaint was prejudicial, denying the panel and later the decision maker the opportunity to adjudicate the charges against John Doe in a fair and impartial manner.
MORE: Yale ignored rules, evidence to judge basketball player a rapist
When Doe asked the hearing panel to query Sally about whether she had "exchanged any text messages" with Jane during the hearing, after a "long hesitation" she admitted to it. The suit claims that Sally's texts revealed that her statements to the panel were "untrue" about the nature of their texts.
Yet the texts that the hearing panel asked Sally and Jane to turn over might not have been their full conversation, because those texts also alluded to Snapchat messages that morning "that could not be retrieved."
Yale refused to declare a "mistrial" based on this coordination between Sally and Jane, requiring Doe to give the panel "evidence from the text messages to support his assertion of collusion by the complainants," the suit says.
Latest due process lawsuit is 4th filed against @Yale. Panel (despite contrary Yale rules) allows witnesses to text each other in apparent effort to coordinate their testimony. pic.twitter.com/eM5by7uzxz

— KC Johnson (@kcjohnson9) January 18, 2018
All women viewed as 'victims'
Despite the fact that no witness testified to observing the alleged groping, the panel found Doe responsible for groping Jane twice and Sally once.
Though Doe cited a flood of "procedural errors" in the proceeding – not just letting Sally and Jane text each other and requiring Doe to prove collusion, but also failure to follow Yale's own evidence standard of "preponderance" – his appeal was summarily denied by Provost Ben Polak, according to the suit.
"It is apparent that Yale views all women who simply make complaints of alleged sexual misconduct, as 'victims,'" which "clearly leads to gender bias against males," it says in alleging the university violated Title IX.
The suit also accused Yale of breach of contract for not notifying Doe of the charges and his rights as a student, giving him a biased fact-finder and hearing panel, and punishing him for "groping" with no written definition of the term.
Doe's lawyer Andrew Miltenberg explained to The College Fix why the lawsuit provides so many clues as to his client's identity. Students accused of sexual misconduct that sue their colleges generally ask for the court's permission to proceed under a pseudonym.
"It was a struggle, because we needed to show irreparable harm – and that irreparable harm unfortunately may make it easier to identify him," Miltenberg wrote in an email Tuesday.
UPDATE: Doe's lawyer explained to The Fix after this post was published why the lawsuit provides so many clues as to his client's identity. The post has been amended accordingly.
MORE: Yale uses 'hearsay' and 'scarlet letter' against accused
IMAGE: Daxiao Productions/Shutterstock
Like The College Fix on Facebook / Follow us on Twitter