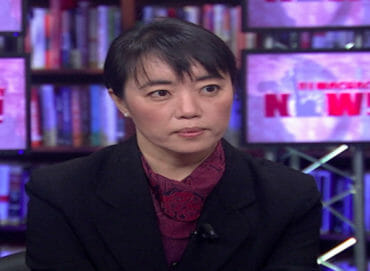 The Yale professor of psychiatry who wanted to "contain" President Trump against his will so as to assess his mental state will be leading a confab of academics in the nation's capital next month.
Dr. Bandy Lee and company will do what Lee previously had done largely by her lonesome — namely, profess the president "unfit for office based on his mental health." The audience: Democratic members of Congress, as before.
Also as before, Lee insists her concerns with Mr. Trump's "mental instability and dangerousness" should not be seen as a diagnosis; if it were, it would be a violation of the so-called "Goldwater Rule," the American Psychiatric Association's decree that it is "unethical for a psychiatrist to make a public statement about someone's mental state without the individual's consent or an in-person consultation."
According to the Washington Examiner, no date has officially has been set for Lee's event, but House Budget Committee Chairman John Yarmuth (D-KY) said it is likely to happen in July.
Professor Lee said event attendees would view a "condensed video" recorded in March which features "thirteen experts" — from the fields of mental health, philosophy, history, and journalism — discussing why they believe the president is unfit for office. These individuals specifically noted "they were worried about the president's access to nuclear weapons and the impact his administration would have on climate change."
Lee said the event is to allow members of Congress to ask her and other experts questions, but planners hope the town hall will be broadcast live so that people who aren't in D.C. also would be able to watch and submit questions.

Lee said the experts won't make specific recommendations about whether Congress should consider invoking the 25th Amendment to remove the president from office or whether they should do so by impeachment. The political process should be determined by members of Congress, she said.

Yarmuth said that, to him, the event was a separate question from impeachment. "I don't think an assessment of someone's mental health is an impeachable issue," he said.

He decided to hold the event "for the same fears she has," he said, referring to Lee. "That the president is manifesting dangerous behavior and the American people need to be alert to it."

"Their position is that as professionals, when they see patterns of behavior that are endangering people, that they have a professional obligation to go public and alert the people who are threatened, and in this case it's the American people," Yarmuth said. "I think the American people deserve to have wider dissemination of that perspective."
Lee added that Trump is "deceptive" because he has a façade of awareness.
"[I]t seems like he's responding to things in a rational manner, but it is not the case from every measure that we have taken," she said. "And this is very serious. In fact, worse than if he had a stroke and were unconscious because he can mislead the country in destructive or nefarious ways."
MORE: Yale prof: 'Contain' President Trump for 'emergency' mental evaluation
MORE: Yale Trump-diagnosing shrink says still has 'duty' to warn about president
IMAGE: Twitter
Like The College Fix on Facebook / Follow us on Twitter