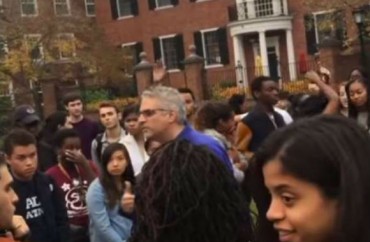 Residents of Yale's Silliman College will have to put up with leaders who believe in robust freedom of expression for the indefinite future.
Yale University President Peter Salovey and Yale College Dean Jonathan Holloway rejected calls to fire Nicholas Christakis, master of Silliman, and his wife Erika, the associate master, in response to student outrage over their defense of (supposedly) offensive Halloween costumes.
Indeed, their email to residents doesn't even acknowledge content of the dispute – or the stunning public attack on Nicholas Christakis and his abject apology in front of students (and administrators) massed in his living room – except to say that the members of Silliman have "differences" among each other.
RELATED: Yale associate master defends Halloween free expression; outrage ensues
Here's the whole thing:
Dear Members of the Silliman Community,

We want to thank all of you who have been, and continue to be, in discussion about how Silliman College can move forward with a sense of shared values, as a community in which every person is respected and included. We thank all of you who join us in working toward this essential goal.

Both Nicholas and Erika Christakis remain committed to serving the college, and we fully support them in these efforts. They are exceptional teachers and scholars, with a longstanding and deep dedication to undergraduates.

We have met with Master Christakis, and we reaffirm our desire to have him lead Silliman College, making it a stimulating and inclusive place. We join him in his call for a spirit of generosity and a willingness to assume the best in others, even as we work to understand, honor, and discuss our differences.
That response, brief as it was, encouraged the Foundation for Individual Rights in Education, which had called on Yale to publicly support the Christakises against the demands to remove them from Silliman.
RELATED: Flanked by administrators, Yale master apologizes to students for his wife's Halloween comments
Like The College Fix on Facebook / Follow us on Twitter
IMAGE: Greg Lukianoff/YouTube