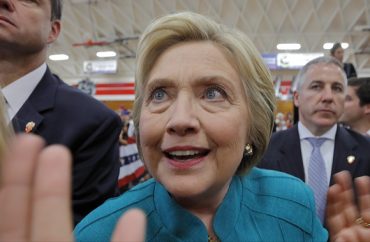 At Yale last evening, the Center for the Study of Race, Indigeneity and Transnational Migration held a forum about "intersectionality in the 2016 election" featuring academics from across the school's "Studies" departments.
You can probably guess how it went … given that the panel was comprised of "five Yale professors with expertise in the spheres of gender, race and philosophy."
For example, as reported by the Yale Daily News, Women's, Gender and Sexuality Studies professor and "enthusiastic Hillary Clinton supporter" Laura Wexler discussed the "struggle" the former Secretary of State faces "representing herself as a capable president."
Wexler began her turn by displaying numerous "unflattering" images of Clinton that have made the rounds on the internet, supposedly as evidence of the Democratic candidate's "struggles."
Because there's a distinct shortage of unflattering images of Donald Trump out there, right?
Speaking of Mr. Trump, here's more from the article:
Chris Lebron, a professor of African American Studies and philosophy, said there is a "decency problem" in the United States. He spoke about the recent shooting of Terrence Crutcher, a 40-year-old African-American man, by police officers and said that Crutcher is one of hundreds of black people who have fallen victim to police violence. Lebron said he was not sure that either of the candidates represents decency, but said Trump is not decent man in the least.

MORE: UConn College Republicans won't back Trump because he's 'mentally unstable'

"His main ambition is to put a wall between another nation of brown people and us … [he] thinks the golden age was before blacks had rights," Lebron said of Trump.

Among his criticisms of Trump was that the candidate has few ideas and that those he does have always come at the cost of diminishing another person or group. Lebron also said Trump has no experience in politics. He warned that Trump could roll back decades of social progress and questioned what it means to live in a nation where 44 percent of citizens, including citizens of color, support Trump.
Yes, yes, yes … somehow, unilaterally, Mr. Trump will revert America to an early 20th century lily white "paradise." Sigh.
But — a bright spot came from Ethnicity, Race and Migration and American Studies professor Albert Laguna who spoke about stereotypes surrounding Latino voters. He pointed out that the demographic is not "all left-leaning," and that immigration isn't an end all/be all political issue for them.
MORE: Prof says she must condemn Trump in class, calls 'balance an offense to the truth'
MORE: Hillary Clinton gets 91% of Harvard faculty donations
Like The College Fix on Facebook / Follow us on Twitter
IMAGE: Joseph Sohm/Shutterstock