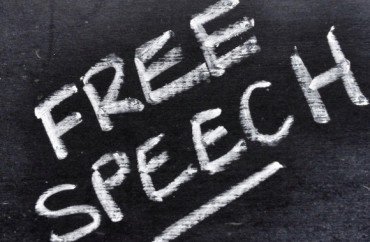 How is it that so many bright individuals cannot grasp something as simple as the First Amendment?
In a Wednesday San Antonio Express-News op-ed  titled "Hate speech does not equal free speech," Northwest Vista College president Ric Baser says that he and other members of the Higher Education Council of San Antonio (Texas) feel it's necessary to "make a distinction between diversity of thought and disingenuous misrepresentation of free speech":
"We further attest that hate speech has no place at our colleges and universities. Inappropriate messages, such as banners and flyers that are meant to provoke, spread hate or create animosity and hostility, are not welcome or accepted."
Perhaps one can empathize somewhat with Baser as, according to its mission statement, Northwest Vista is a "Hispanic Serving Institution." However, as a public entity, it is not his place, nor that of any serving on the Higher Education Council, to make the subjective determination as to just what speech "provokes" or "creates animosity/hostility."
It is his duty to maintain a content-neutral atmosphere to, as he states at the beginning of his piece, "embrac[e] diverse points of view, [which] lead […] to a multitude of new discoveries and cultural understanding."
Does a pro-life speaker or display "provoke" and "create hostility"? It sure does, especially on an overwhelmingly liberal campus. But it clearly protected under the First Amendment and would have to be accepted at Northwest Vista despite  President Baser's opinion.
Does a speech about scrapping affirmative action "provoke" and "create hostility"? Certainly. And Baser would have to allow this, too, on his campus.
It is true, as Baser writes, that "from time to time, American colleges and universities witness hate speech or activity." (The featured photo in his piece is that of white nationalist Richard Spencer.) But such is not, as he says, "disguised as free speech" —  it is free speech.
As loathsome as folks like Spencer are, they are entitled to their First Amendment rights at public venues. "An incitement to violence can be restricted," a commenter to Baser's op-ed writes (emphasis added), "but the burden of proof is high."
And that last part is key. Incitement is not, as some on campus would have you believe, merely voicing hateful thoughts about a group of people.
MORE: Laws designed to protect free speech harm 'oppressed groups'
MORE: Joe Biden on student free speech rights: Call me an 'absolute jerk'
IMAGE: Shutterstock.com
Like The College Fix on Facebook / Follow us on Twitter