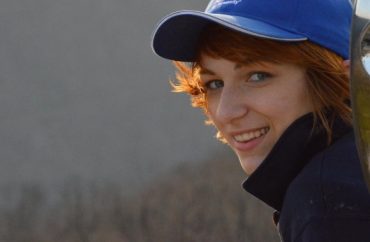 'I am an American, I am a patriot, and I am a conservative'
Sarah Dezelin isn't afraid of unconventionality. In May, after she came up short on funds to attend the University of Connecticut, her best friend launched a crowdfunding campaign to help cover tuition. Dezelin didn't shy away from the effort. She was honored and touched, and embraced the kindness of strangers.
"This is so unreal," she wrote on her gofundme page after more than $2,500 was donated, calling the support "unbelievable kindness."
More recently, Dezelin was the receipt of a different kind of award. This month she won an annual essay contest hosted by the Network of Enlightened Women (NeW), a national group with campus chapters that educates college women on conservative values and emboldens them to speak out on campus.
Dezelin, a sophomore at the University of Connecticut, definitely needs the support — she is majoring in environmental studies, and spoke with The College Fix over the phone about her experiences as a conservative in a field of study typically thought of as progressive.
If there's one thing Dezelin wants to make clear, it's this: Conservative Republican women can and do care about the environment.
"I feel very strongly about the environment and we do need environmental change," Dezelin said.
She said she believes better environmental policies will have a two-fold effect of creating a better future for the planet while also ensuring economic growth.
"Climate change arguments aside, fossil fuel burning harms the human population and we are going to run out of them sooner or later. So development of new technologies will benefit the economy and our future. We should be switching to renewable resources because that will be better for us in the end," Dezelin said.
Yet, her experiences as an environmental studies major have been fraught with professorial bias and probing questions from her academic peers. When asked how often she hears a professor assert something about the environment that is an opinion rather than a fact, Dezelin responded with a laugh: "Every day."
"There are so many days that someone will ask a question and the professor without thinking about it will say his or her views on something. When you have strong views it is hard to express what the other side of the argument thinks or feels," Dezelin said.
She also received questions from her peers about why a conservative student would be studying what is commonly thought of as a more progressive major.
"I encountered a lot of people who didn't understand why I was there [in the classroom]. A lot of times I kept my mouth shut, a lot of times I tried to reason with people, but sometimes they don't want to be reasoned with. When I tried to express my opinions, the first thing they would do is insult my intelligence," she said.
Yet, Dezelin spoke positively about her recent experiences on campus. After attending the 2016 NeW leadership retreat, she told The Fix that she began feeling more empowered to speak her mind on campus.
"Since I've found NeW I know that I have people who back me up," Dezelin said. "I call them closeted Republicans. I feel like I could be much more vocal on campus because I know there are other people on campus who feel the same way but are equally as afraid to speak out as I once was. It is important to me to tell people that I am a Republican and that I am not a sexist, bigot, or any other rude term because of that fact."
Dezelin said she was "thrilled" to be chosen as this year's NeW essay winner, and the topic of her essay was education. Arguing the thesis that the better our education system, the less we have to rely on the government to take care of us, Dezelin wrote: "We must fix the mindset of the people and reteach the work ethic that once was The American Dream."
She chose education as her topic because of her perception that "we've essentially been teaching the same way since the beginning of public education and school is very much a factory setting where everyone is taught the same thing. I think we should have more well-rounded skills and a knowledge base in many different subjects, in addition to classes that are more tailored for every-day living, practical skill base."
Dezelin received a $1,000 prize for the essay and said she plans to continue her involvement with NeW and to be more outspoken on campus now that she knows she is not isolated in her conservative beliefs.
"Our country was founded on ideas of freedom, hard work, and patriotism," she stated on NeW's website in defining her principles. "I believe in freedom of the individual, the freedom of self protection, and the freedom from a large, overbearing and controlling central government."
"Even though my beliefs and way of life represent things everyone should agree with or respect, I am not treated as an equal. The moment I reveal I am a conservative, the mostly liberal people that surround me bombard me with hatred and disbelief. This is, of course, because conservatives are largely unrepresented in the media and oftentimes our real beliefs are clouded by misinterpretation and blind abhorrence. Regardless, I am not discouraged, and I do not stray from what I believe is right to appease the masses. Like the people who founded our country, I remain strong in adversity. Like my peers, I will continue to practice free speech. As my ancestors did, I will stand by my country and work with purpose and strong will. I am an American, I am a patriot, and I am a conservative."
MORE: 2015 NeW essay winner — 'New campus culture: The limiting of the human mind'
Like The College Fix on Facebook / Follow us on Twitter
IMAGE: Courtesy photo