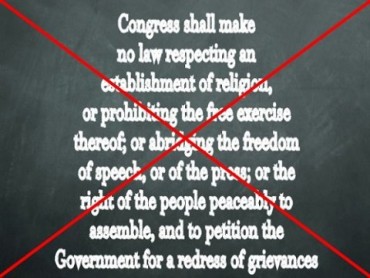 So-called "chalkings" appeared all over American campuses this week, and on Wednesday the University of Michigan was no exception.
An area known as the "Diag" played host to messages stating "Stop Islam," "Build the Wall," "Stop the Rape of Europe," and the more politically generic "Trump 2016."
Some Muslim students wanted to the university to take action and facilitate the removal of the graffiti; however, the school said "it allows messages to be written in chalk on campus plazas."
As a result, students took matters into their own hands and washed away the "bigoted" comments, but allowed the "Trump 2016" to remain — "because [they] didn't want to infringe on political speech."
The Detroit Free Press reports:
"We specifically made it a point to not remove the chalk that was simply pro-Trump (even though we do not agree with his hateful ideas)," said university student Rami Ebrahim.

Rick Fitzgerald, a spokesman for the University of Michigan, said in a statement on Wednesday: "Someone used chalk to write a #stopislam message on the main square in the heart of our campus known as the Diag. Attacks directed toward any member or group within the University of Michigan community, based on a belief or characteristic, are inconsistent with our values of respect, civility and equality."

Our wonderful university! And us Muslim Students were the ones who had to clean it up in the end ?? #stopislamphobia pic.twitter.com/mKmc0jJGWp

— Rami (@ERebrah) March 31, 2016

"We were just upset that the university didn't adequately address the situation, to the point where they wouldn't send anybody to clean it up because it was after hours," Ebrahim said. "It's a systemic problem that the University hasn't paid much attention to … addressing this type of climate created on campus."
RELATED: First Amendment doesn't let you say 'hateful things,' Mizzou's new vice chancellor says
Banen Al-Sheemary, a student, said: "This is reflective of the deep racism embedded in our university. This doesn't only impact Muslims but all students of color. … the administration isn't proactive in combating these hostile attitudes. When silent, it perpetuates and allows this type of behavior to continue because it sets a precedent that it is all right to target students because the administration will not take any concrete steps."
Although some UM students appear to have handled their chalking incident without a paroxysm of snowflakery, they still don't seem to grasp that even the messages which they erased qualify as political speech.
U. Michigan spokesman Rick Fitzgerald's response to the scribblings was perfectly wishy washy:
Attacks directed toward any member or group within the University of Michigan community, based on a belief or characteristic, are inconsistent with our values of respect, civility and equality."

We all understand that where speech is free it will sometimes wound. But our message is this: We are fully committed to fostering an environment that is welcoming and inclusive of everyone. Tonight we are reminded there is much work yet to be done.
Your second sentence is correct, Mr. Fitzgerald. And that's all you had to say.
Meanwhile, over in New York State, 33 state officials called for the "immediate suspension" of CUNY's Students for Justice in Palestine due to "several incidents that have left many Jews feeling fearful and intimidated" by the group.
While many of the complaints against SJP have merit when it comes to violating the CUNY student code of conduct (not to mention the law) — student reports of being pushed, spat on, having stuff thrown at them — some of these lawmakers are dead wrong when it comes to the First Amendment.
Assemblyman David Weprin said that "Hate Speech is not Free Speech and I call on CUNY to keep their campuses hate-free by taking concrete action on SJP."
Assemblyman Dov Hikind added, "I commend [Zionist Organization of America head Mort] Klein and the entire ZOA family for continuously speaking out against this hatred in an effort to rid CUNY campuses of this malicious rhetoric."
Sorry Mr. Weprin, but hate speech is free speech. This isn't Europe. And the Constitution isn't interpreted via Critical Race Theory (yet).
And Mr. Hikind — "malicious rhetoric" is constitutionally protected too.
Certainly, CUNY shouldn't be obligated to financially support a group which disregards the college's own rules for behavior, but when it comes to speech, a public university must be content and viewpoint neutral if it seeks any sort of regulation.
RELATED: Poll: Overwhelmingly, Democrats do not approve of the First Amendment on campus
RELATED: TRENDING: College students protest against the First Amendment
Like The College Fix on Facebook / Follow us on Twitter