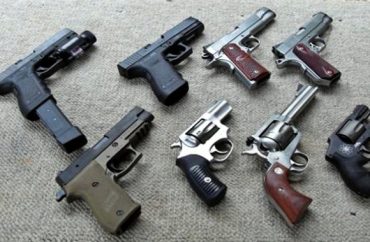 There's no real reason for them not to
A sheriff's department in southern Florida has partnered with two local universities to train faculty and staff in the handling and use of firearms. The entire program, as you might have guessed, was designed to address one thing: The threat of mass shooters on unarmed, vulnerable school campuses. Teachers and staff are trained extensively (firing more rounds and studying for more hours than even the local sheriff's deputies do). Campus administrators are reportedly quite pleased with the setup.
There is a weird, inexplicable reticence to arming teachers: People act aghast at the thought, as if educators were an unsullied caste of person that should never deign to grip a firearm. Give us a break. Teachers serve a valuable role in society, but they are not somehow elevated above the iron law of self-defense. There are plenty of instructors who will no doubt be reluctant to carry guns, and they should not be compelled in any way to do so. But for those who wish it, and who receive the proper training, what's the harm?
One objection—that arming teachers may, in the chaos of a mass shooting situation, lead to even more students getting shot and killed—is on its face reasonable, but ultimately it does not hold water. We know, from brutal experience, that schools are soft targets, and that anyone who wants to walk into a school and shoot it up has more or less carte blanche to do so. "What if some students get shot?" is an odd question when students are already getting shot. (As well, it's odd that nobody ever asks the same question about the police officers who show up on the scene. "Cops are more experienced!" people like to say, but that's only halfway accurate: a mere 25% of police officers will use their weapons in the line of duty. Most police are not as well-versed in shootouts as people think they are.)
Another objection that is popular: "Teachers are supposed to teach, not be security guards." Well, this is just silly: I am sure instructors are more than capable of carrying a concealed firearm and teaching History 210 at the same time. We're not asking teachers to be John Rambo; we're simply asking that those who want to train themselves and carry firearms be allowed to do so. It's not rocket science. It's not even middle school science. It's just common sense.
It is encouraging to see districts like Polk County, Florida stepping up and taking a proactive approach to the terrible problem of mass shootings. There are a great many solutions other than arming teachers that we should pursue at the same time—a better background check system, for instance, that more thoroughly incorporates disqualifying mental health conditions—but letting instructors carry firearms is a good and proper solution to a pressing problem, no matter the silly objections that are raised against it.
MORE: Campus anti-gun sentiment is not rooted in fact
MORE: Students will carry dildos to protest new campus-carry law
Like The College Fix on Facebook / Follow us on Twitter