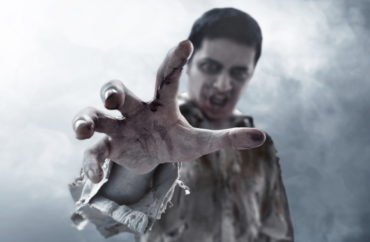 When Florida Gov. Ron DeSantis in June 2022 signed a new higher education reform law, he cited the need to ensure colleges and universities are worth the cost.
"I'm a big believer in higher education but I'm not a believer in plunging people $150,000 into debt with a degree in 'zombie studies,'" he said at the time. "That is not a pathway to success."
Zombie studies, as it turns out, is not some tongue-in-cheek dig at higher education — it's an actual topic scholars at some campuses take quite seriously and tackle for various pedagogical purposes.
Some use it to teach teamwork and health and survival skills. Others study sociology and human behavior with the genre.
"Generally, monsters show us what we might fear as a society, and one of the greatest fears that our society has is a fear of death," Cal State East Bay's Chair of Philosophy & Religious Studies Christopher Moreman said in an October 2022 campus news release.
"Americans' approach to death is to deny it completely and to avoid it at all costs, but the zombie unapologetically forces us to confront and consider death. Zombies are literal embodiments of death coming to get us," said the scholar, a "zombie aficionado."
Last fall, East Tennessee State University's Board of Trustees approved a new course called "Surviving the Zombie Apocalypse." It is described by the university's website as incorporating "the four core competencies of interprofessional education and collaboration: teamwork, communication, roles and responsibilities, and values and ethics."
The University of Southern California offered a similar seminar in 2021 called "Surviving the Zombie Apocalypse."
"You must work out what you are going to do to survive. The philosophical wisdom of the ages might help. Or it might not," the syllabus stated.
Saint Xavier, University of Baltimore, Rollins College, George Mason University, Wright State, and Michigan State University have all offered courses in zombie studies in the last 12 years.
A review by The College Fix found that Saint Xavier, Rollins College, and George Mason University continue to offer these courses, while the other schools have either adapted or discontinued their zombie class offerings.
According to a 2014 piece in The Wall Street Journal, "Zombie scholars say their subject is worthy of study because the living deads' history and ubiquity in modern literature and culture present metaphors ripe for analysis."
While some find this topic of study "silly or inappropriate," University of Tampa Professor Sarah Juliet Lauro argues "it's a deeply important mythology that is specifically about slavery."
She added in her book, "The Transatlantic Zombie: Slavery, Rebellion and Living Death," that "zombies came to represent the struggles of slavery and colonialism."
Professor Lauro told The Fix that she researches and has published about the "origins of the zombie myth," but has "never taught a class on 'Zombie Studies.'"
She did not respond to a further request for comment by The Fix on the potential value of a student exploring unique topics like zombie studies.
But others do not find "zombies" to be a worthwhile topic of study.
Mark Bauerlein, an emeritus English professor at Emory University who wrote "The Dumbest Generation," said there is a "danger" when professors explore these kinds of subjects.
"They end up invariably turning their attention away from the tradition…the classics, the works that have survived the test of time," Bauerlein said in an email interview with The College Fix.
Bauerlein said the danger he refers to "goes back to the old idea that every student only has so many hours in his academic career… it's a matter of opportunity costs."
For Bauerlein, the more a student spends on these topics, the less they spend on the classics. A student should be actively seeking out "the materials of [their] adulthood," and a professor's role is "to give them [these] materials."
"If you choose fluff, you're gonna be a fluffy person," Bauerlein said, encouraging students to "choose great characters and ideas."
Bauerlein said he also thinks seeking out classic literature will help students when they explore the job market after college.
"You are interviewing at some organization…they invite you to a leisurely lunch…they're 40 to 50 [years old]," Bauerlein began, "you can't bring up zombies," he advised, but if you were to make an "interesting political point" or refer to a "timeless work," you would "impress them" and effectively "engage with your peers."
"People are impressed by knowledge of the tradition," he said. "It's important for teachers to introduce the young to the important things," instilling in them a sense of the difference "between the timeless and the trivial," he said.
Michael Poliakoff, a policy director for the American Council of Trustees and Alumni, said "the proliferation of undergraduate courses in topics like zombies and vampires is helping ruin American students' brains," according to the WSJ.
While students are spending their time exploring these unorthodox topics, Poliakoff said he thinks they should instead focus on developing other crucial skills, arguing that "many U.S. college graduates still lack proficiency in basic verbal literacy."
And major politicians have also warned against students wasting their time and money on topics like "zombie studies."
DeSantis warned college students who participate in zombie studies courses that it may not set them up for higher-paying jobs.
"You look at how much people have gone into debt, and then they end up with degrees in things like Zombie studies, and then what happens? They end up working where they could have worked at a high school anyways," DeSantis said at a 2022 press conference.
DeSantis advised students that "Going to a four-year brick-and-ivy university is not the only way you can be successful," recommending trade schools instead of studying topics that may not increase your job prospects after college.
Americans owe over $1.75 trillion in student loans. The value of college degrees is decreasing, and colleges lost about 7% of enrollment between the springs of 2020 and 2022.
MORE: University Offers Zombie Apocalypse Course
IMAGE: FOTOKIA / Shutterstock
Like The College Fix on Facebook / Follow us on Twitter