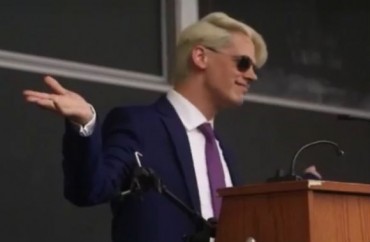 Fake blood and yelling can't outweigh the First Amendment and academic freedom at a public university, the president of Rutgers University made clear Monday.
In a statement responding to the raucous protest of anti-feminist Twitter troll Milo Yiannopoulos at Rutgers Feb. 10, President Robert Barchi validated why the gay gadfly Yiannopoulos chose Rutgers for his "Dangerous Faggot Tour."
No one should assume that Rutgers as an institution endorses comments that are "inconsistent" with "reasoned discussion and balanced points of view," Barchi wrote:
Having said that, all of the members of our community—our faculty members, students, alumni, and staff—are free to express their viewpoints in public forums as private citizens, including viewpoints that the University itself or I personally may not share. And we do not restrict the activities of recognized university organizations, including the speakers they invite to campus, as long as these organizations obey the law and follow University policy and guidelines regarding these events.
Academic freedom is no less important, he wrote, calling it "a cornerstone of American higher education":
Our University is a community of diverse ideas; we value academic freedom's protections that enable our faculty to state their views and engage in lively discourse. At Rutgers we encourage our faculty to explore new and sometimes controversial ideas and to subject assumptions to scrutiny, all within the boundaries of civil and respectful discourse, which academic freedom requires.
These are "at the core of what we do," Barchi said:
All members of our community enjoy the rights of free expression guaranteed by the First Amendment. Faculty members, as private citizens, enjoy the same freedoms of speech and expression as any private citizen and shall be free from institutional discipline in the exercise of these rights. In addition, they also enjoy academic freedom of expression when functioning in their roles as faculty members.
Rutgers has a "yellow light" rating from the Foundation for Individual Rights in Education, which says the university's policies on harassment and discrimination, public forums and "verbal assault" are "ambiguous" and encourage "administrative abuse and arbitrary application."
h/t Campus Reform
Like The College Fix on Facebook / Follow us on Twitter