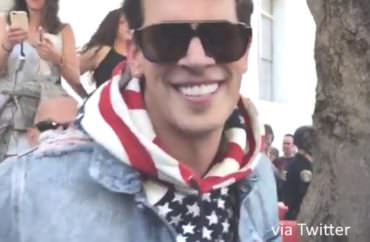 UC Berkeley: 'The most expensive photo-op in the university's history' 
BERKELEY, Calif — Despite the cancellation of UC Berkeley's highly anticipated Free Speech Week, anti-feminist provocateur Milo Yiannopoulos made good on his promise to appear at the public university, making a quick visit in front of a mix of fans and demonstrators before departing.
Yiannopoulos, who was scheduled to be a headliner for the four-day Free Speech Week event, appeared around noon on Sunday for about 15 to 20 minutes at the campus's Sproul Plaza. His visit drew hundreds of protesters and supporters alike and included what a UC Berkeley spokesman called "extraordinary security measures."
The very few people who heard the speech, as well as Yiannopoulos on social media, stated it was short-lived due to protesters who shouted him down.
Milo is here speaking to a few dozen supporters pic.twitter.com/f0fkwfczQO

— Andy Campbell (@AndyBCampbell) September 24, 2017
The right-wing gadfly had entered the campus arm-in-arm with independent journalist Mike Cernovich and pro-Israel activist Pamela Geller after protesters had verbally clashed during demonstrations throughout the morning.
Yiannopoulos ended up speaking to a small crowd of a few dozen without any microphone, signed autographs, and led a singing of "The Star-Spangled Banner" inside a barricaded area of Sproul Plaza before exiting campus.
Numerous people in line had yet to get through security and did not get to see him. It was estimated that there was $800,000 in security provided by the public university for the spectacle, prompting the UC Berkeley spokesman to call the entire affair an expensive PR stunt.
I got into the plaza where Milo was briefly before exiting pic.twitter.com/iGOT2GUCSn

— Nathan Rubbelke (@NateRub) September 24, 2017
Yiannopoulos, whose visit to campus in February was shut down by riots, had vowed to come to the Berkeley campus even after The Berkeley Patriot, the conservative student group hosting Free Speech Week, cancelled this week's events at the last minute.
Among the few dozen who saw Yiannopoulos at Sproul Plaza on Sunday was Brittaney Brownrigg. In an interview with The College Fix, the Bay Area resident said Yiannopoulos "didn't get too much time to really speak" and that some people attempted to speak over him.
"He tried to get like the people that were yelling at him to have a conversation with him, but they refused. They were just like saying their little speech," Brownrigg added.
Geller tweeted out: "Singing the Star-Spangled Banner in front of the left-wing fascists. It's like the silver cross to Dracula."
Singing the Star-Spangled Banner in front of the left-wing fascists. It's like the silver cross to Dracula. #freespeech #milo #weovercame pic.twitter.com/jQu0BhKzdv

— Pamela Geller (@PamelaGeller) September 24, 2017
UC Berkeley spokesman Dan Mogulof said it was "unclear" why Yiannopoulos chose to start and end his visit when he did.
"People were still coming in to the enclosed area," Mogulof said.
"I wish I had been able to speak for longer today, but a yelling protester made it impossible for any of our speakers to be heard (Berkeley refused to allow us any amplified sound), and Antifa showed up and I was told we had to evacuate," Yiannopoulos said on Facebook.
Those who wanted to hear Yiannopoulos speak were required to walk through a metal detector and numerous individuals were still waiting in line to enter the secured area during Yiannopoulos's short visit to campus.
Yiannopoulos alleged "police kept HUNDREDS (400-500) of supporters outside to make the crowd look tiny," the San Francisco Chronicle reports. On his Facebook page, Yiannopoulos offered an apology to the "hundreds of people the police refused to let in."
Mogulof acknowledged the security line was slow and said that was intentional, especially after someone entered with a type of plastic brass knuckles.
There was about a crowd of 700 to 800 outside the enclosed area, UC Berkeley police chief Margo Bennett said in a press conference Sunday afternoon. She said about 150 people total were let into the enclosed area where Yiannopoulos spoke.
Counter-protesters arrived on campus about two hours before Yiannopoulos was slated to speak. Anti-fascist activists denounced Yiannopoulos's visit to campus, with one speaker alleging the provocateur's visit was a "fascist assault" on the students and faculty.
"In the name of humanity … we refuse to accept a fascist America," protesters chanted. Another chant included "Milo must go, immigrants stay."
At times, anti-fascist demonstrators and Yiannopoulos and pro-Donald Trump supporters clashed, with police officers separating the groups. Bennett said there were a few ejections and arrests, but the university was "pleased" for the most part with its security measures.
"Why do you hate America?" – pro trump supporter yells at protesters as they get close to the street pic.twitter.com/MnPG4YrSMn

— Nathan Rubbelke (@NateRub) September 24, 2017
Bennett ballparked Sunday's security costs at around $800,000. Mogulof said the university was "relieved that [the event] was relatively peaceful and safe."
"At the same time, it feels a little bit like probably the most expensive photo-op in the university's history," he added.
Bennett declined to disclose how many police officers were present at the event, but said that eight or 10 law enforcement agencies were involved in the securing the campus.
Most of the demonstrators on the UC Berkeley campus appeared not to be students, though a number of students came out to observe the events.
Among the crowd was student Mike Wright, editor-in-chief of The Berkeley Patriot. In an interview with The Fix, Wright said he wasn't sure if he would enter the enclosed area to see Yiannopoulos speak. He added he was disappointed that his group ended up having to cancel the Free Speech Week events.
"My biggest mistake, I think, was to work cooperatively with the idea that we didn't need attorneys involved and that we could really come together and demonstrate that this campus really was the home of free speech. I really believed it and I was just proven wrong," he said.
MORE: UC Berkeley profs urge campus boycott during 'Free Speech Week'
Like The College Fix on Facebook / Follow us on Twitter