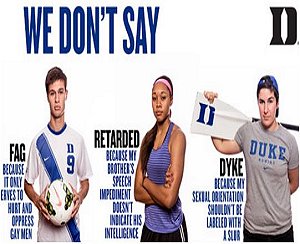 Daniel Kort, "Duke University senior, social psychology research fellow, and LGBTQ and health disparities advocate," writes in Huff Post College about how various Blue Devil athletes are using their clout in the "YouDon'tSayCampaign."
Of course, some — even most — of the featured words/phrases are those which any person with a modicum of common sense and courtesy would not utter in the presence of others, especially strangers.
In my humble opinion, it should be no-brainers today that terms like "fag," "dyke," the N-word, and even "retarded" be persona non grata, so to speak, in polite company.
But, naturally, college kids being who they are, they have to up the ante to the inane.
The College Fix's Claire E. Healey reported on the (pre-athlete) version of the Duke campaign last April. Then, aside from the words noted above, the campaign also took aim at terms like "bitch," "pussy," "bossy," and phrases like "man up."
Duke's athletes have added, among other things, "Run Like a Girl," and "What Are You?" to the list.
For instance, take a gander at this pic:
First of all, who actually says "run like a girl" anymore? More significantly, I thought progressives were "about science." So, why the unscientific statement — that "gender doesn't limit athletic abilities"? OK sure, saying that makes people (females) feel good, but having two X chromosomes actually does limit one's athletic abilities … when compared to males.
After all, why do we have gender-separate sporting events? Why are there no females playing football? Baseball? Why are women's times on the track and swimming pool slower compared to those of men?
Having a particular gender actually does limit one's athletic abilities, doesn't it?
Then, there's another incarnation of this silly expression:
Regarding this, The College Fix's Sarah Greek wrote last March:
Girls are more likely to be catty than boys: boys are more likely to be violent than girls. Anyone who works with children knows this. Denying a special vulnerability of one's gender does not equal confidence, but the lack of it.

A man would not be permitted to ban the word 'violence' or 'bullying' as it pertained to men, because doing so would be a farce: there are more men in prison for violence than there are women. A society that looks down on spitefulness and violence but values leadership and tact is a society that understands something important about life.

[Facebook bigwig Sheryl] Sandberg suggests a unique response when girls are labeled 'bossy.'

"That little girl's not bossy," she argues. "That little girl has executive leadership skills."

But is the behavior described by the word bossy really the skill set of an executive? A solid work ethic, savvy with assets, the ability to motivate people, a calm head under pressure, the ability to set goals and follow through, strong decision-making skills – it is traits like these that have always been necessary in leaders.

A bossy person is frequently lazy – pushing their own work onto other people, easily angered, predictably selfish, and always demotivating. While bossy tendencies in children can and should be guided into productive energy, perhaps the only one authorized to demonstrate this level of optimism is a mother.
Next, what about this phrase:
Saying "man up" signifies … that women can't be courageous? That masculinity is "superior?" (It is in the physical strength realm; see above.) And as such, shouldn't be uttered? What about using it as a synonym for "grow up" to high school and/or college (male) students who are not at all acting their age?
Continuing, here's a head-scratcher for you:
This is only related to anxiety and depression? What about if a goofy, nasty boyfriend unceremoniously dumped you, and you're now acting like the world's come to an end? After constantly whining about it non-stop to your roommate(s), she/they would be out of line to tell you to "get over it?" Really?
But perhaps the most bewildering inclusion is the "What Are You?" phrase, as in asking someone about his/her racial/ethnic identity:
Seriously? Nowhere else in the country (and maybe the planet) is one more identified by their skin color than at a university. And its representatives now want to claim otherwise? (Political correctness invariably contradicts itself; that, or its "hierarchy" is absolutely impossible to navigate.)
The campaign's Facebook page has many more examples, some as befuddling and/or ridiculously PC as the examples above: "Illegal alien," "It's just a phase," and "Kill me" are but three.
Look, I get Kort's ideals when he says "I am proud of my peers for leading by example in challenging marginalizing language and bias both on and off the field, building safer and more inclusive communities, and validating the identities and experiences of people of all backgrounds." I really do.
But the tendency to go (way) overboard will inevitably come back to bite him and the other speech police for, when taken to its logical end, everyone will take offense to something.
If you don't believe me, just check this out.
Read the full Huff Post College article.
Dave Huber is an assistant editor of  The College Fix. (@ColossusRhodey)
Like The College Fix on Facebook / Follow us on Twitter
IMAGES: Facebook screencaps