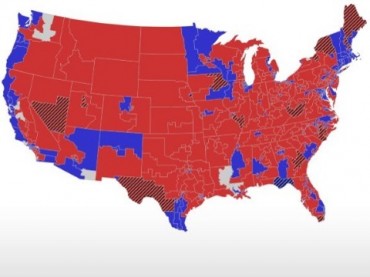 While millennial voters still favor Democrats, that margin has narrowed, and exit polls show young Republican voters helped in Tuesday's red landslide.
Voters age 18 to 29 historically favor Democrats, and in many cases millennials turned out big for Democratic candidates in Tuesday's 2014 midterm elections. But a strong showing by young Republicans helped offset that trend and pushed several Republican candidates into the winner's circle.
Overall, exit polls found voters age 18 to 29 favored Democratic candidates by a margin of 54 percent to 43 percent in U.S. House races, a trend often mirrored in Senate and gubernatorial races as well. Yet the youth vote was key in several of the battleground states where Republicans won.
These stats are interesting when considering that the youth voter turnout wasn't much higher than previous election cycles, coming in at 21.5 percent, or 10 million voters, on Tuesday – compared to 20.9 or 9.5 million young voters in the 2010 midterms.
"MYTH: Low youth turnout = R gains," Tweeted Alex Smith, president of the College Republican National Committee. "Nat'l youth vote was higher than in past 3 midterms & many key states had near pres. level youth turnout."
The GOP certainly took the youth vote much more seriously this time around, and their stronger and more proactive ground game at colleges nationwide through their new Campus Captain program, a tech-savvy peer-to-peer outreach strategy, may have paid off. Other emerging conservative campus activist groups, such as Turning Point USA, perhaps also pitched in with the overall red wave.
Much rides on the youth voting bloc, which twice helped catapult Barack Obama to the White House. But it appears young voters this time around often came in at or near a dead heat in their support of Republican and Democratic candidates, perhaps even cancelling each other's votes out in some cases.
Congressional races
In Iowa, Republican Joni Ernst lost the youth vote, but not by much, garnering 45 percent of the youth vote in her Senate win compared to 51 percent of Democratic challenger Bruce Braley, according to NBC data.
And newly elected Republican West Virginia Sen. Shelley Moore Capito raked in a whopping 60 percent of the millennial vote compared to Democratic challenger Natalie Tennant's 35 percent. In that race, youth voter turnout came in at only 10 percent.
One of the most decisive victories where a Republican won the millennial vote by a comfortable margin was in Arkansas. According to NBC exit polls, voters age 18 to 29 voted in favor of the Harvard-educated Republican veteran Tom Cotton by 50 percent compared to Democratic opponent Mark Pryor's 46 percent.
In one of the most watched elections, Democrat Alison Lundergan Grimes only edged Republican incumbent Mitch McConnell by one percent of millennial vote in the Kentucky race. McConnell handily won reelection.
Kansas Republican incumbent Sen. Pat Roberts lost the millennial vote by a wide margin, yet still won Kansas overall.
Nearly the opposite was true in Iowa governor's election. Republican incumbent Terry Branstad received 54 percent of the millennial vote, winning his sixth term as governor, while Democratic challenger Jack Hatch received just 41 percent.
In Maine, millennials favored Democrat Mike Michaud by only one point over Republican incumbent Paul LePage, who won the governorship handily, NBC reports.
Overall in the Senate races where Republicans lost the millennial vote yet won election or reelection occurred in North Carolina, Iowa, South Carolina, Kansas, Kentucky, Alaska, and Georgia.
Gubernatorial races 
As far as governor's races go, all eyes were on Wisconsin, Florida, and Michigan, where 18- to 29-year-old voters averaged a nearly 16 percent turnout, and Republicans incumbents all won reelection yet lost the millennial vote.
In Wisconsin, Scott Walker won handily overall with 47 percent of the youth vote to his challenger's 51 percent.
In Florida, challengers Charlie Crist and Adrian Wyllie split 58 percent of millennial vote while incumbent Republican Rick Scott comparatively secured 41 percent of the youth vote. A closer millennial race was in Michigan, where Republican incumbent Rick Snyder won reelection easily with 48 percent youth vote compared to Mark Schauer's 50 percent. Another big win where millennials favored the GOP was in Ohio's gubernatorial race, where successful Republican incumbent John Kasich secured 56 percent of the youth vote.
Focus on young people paid off for Republicans
Reaction to the election results illustrate many people agree younger voters could not simply be labeled Democrats.
Former College Fix editor Robby Soave tweeted: "Republicans took the 'MORE young pplz NOW' really literally, and it paid off."
Generation Opportunity, a nonprofit that advocates freedom among millennials, congratulated the younger generation on the victory, and noted that: "Overall, young voters were more likely to show up at the polls and more likely to cast their ballots for Republicans than they were in 2010."
And in particular, an interesting trend has emerged among the youngest of the 18- to 29-year-old age bracket, according to Generation Opportunity's David Pasch.
"With the exception of Arkansas, where the GOP nominated a likeable 37 year-old candidate, the youngest voters within our demographic (18-24) were more likely to vote Republican than the older ones (25-29)," Pasch notes. "This confirms a trend we observed in 2012 and 2013: first-time voters who supported Barack Obama in 2008 have been somewhat loyal to his party, while their younger siblings and those who came of voting age during the Obama presidency have largely turned away from Democrats in the face of crippling student loan debt and the highest sustained youth unemployment levels since World War II."
Rachel Jankowski, a University of Michigan law student and senior adviser to the campus chapter of Young Americans for Freedom, said there is still room for improvement.
"While the youth turned out in decent numbers for midterms, it still is not enough, especially when comparing it to older demographics," she said in an email to The College Fix. "In order for the youth to be properly represented on issues that are of importance to us (i.e. jobs, student loans), it is pertinent that we show up for these elections."
"The Republican Party has evolved in terms of the people it attracts and who it successfully runs as candidates. The GOP made history this election for its gains, especially involving women and minorities," Jankowski pointed out. "If it continues this trend and shows the youth demographic that the GOP represents their interests these next two years, the party will run on its successful record and take back the presidency in 2016."
College Fix reporter Derek Draplin is a student at the University of Michigan.
Like The College Fix on Facebook / Follow us on Twitter
IMAGE: Real Clear Politics