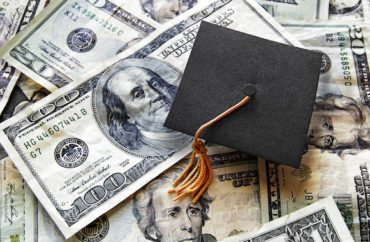 Loans are still a part of students' financial burdens
In 2017, Brown University set an institutional goal to "replace loans with scholarship funds in financial aid awards" by the 2018-19 academic year. This goal was named the "Brown Promise."
The Ivy League university has succeeded in that goal, though some students at the school are pointing out that the program does not readily address the high cost of attending the university.
The Brown Promise was instituted for the benefit of "families with moderate incomes, who often do not qualify for the generous financial aid offered to low-income families by Brown and some other universities, yet also do not have the full resources to cover the cost of attending college," according to the school's website. The initiative was part of a "dedicated effort…to make a Brown education more accessible to students from all income backgrounds."
Brown spokesman Brian Clark indicated that the policy was thus far a success, telling The College Fix via email that "for the current 2018-19 academic year, no Brown undergraduates who receive financial aid have loans packaged in their University awards."
"For a sense of scale, in looking at the year prior to implementation, approximately 1,200 students had loans included in aid packages," he added.
Students get loans from elsewhere
However, despite this reduction of packaged student loans for 1,200 applicants, paying the tab at a prestigious university remains out of reach for many would-be attendees. This is due in part to the distinction between packaged loans and regular loans, and the limits of financial aid availability itself.
The Brown Promise only eliminates packaged loans, those given to students from the college upon admittance as part of a financial aid offering. The promise does not affect the significantly larger amounts of outside loans that a student may need to take out to cover the remaining cost of college. The maximum amout amount given in the form of a package loan before the promise was $5,000, according to the university website.
Further, as Clark told The Fix, this promise only affects those "who receive financial aid" to begin with.
Though the promise helps to relieve several thousand dollars' worth of loans for numerous applicants, some have argued that this plan does not address middle class students who do not qualify for the generous financial aid.
Julian Haag, president of the Brown College Republicans, said that his first impression was that the program was "a pretty good idea." But he soon realized that the price tag for attending Brown is still prohibitively high for many students.
"For middle class students from middle class families, I understand why this could be a good program. However, there are still people who are stuck in between because financial aid itself isn't going up," he told The College Fix.
"If you're not getting [loans] then maybe you're not going to have as much debt at the end, but in the short term you're still paying a lot of money," he said.
Jordan Allums, a columnist for The Brown Daily Herald, wrote last semester that "eliminating loans from financial aid packages does not eliminate families' need for them when they are not receiving sufficient aid in the first place."
"If the amount of financial aid that families receive remains insufficient, they will still have to request loans from Brown or seek private loans elsewhere," Allums wrote, adding: "Indeed, while replacing portions of tuition covered by loans with scholarships may decrease student debt after college, the Brown Promise makes little difference in the short-term affordability of an education."
Haag echoed these sentiments. "The financial aid itself is not going up, so how great really is this program?" he said.
MORE: Want to solve the student debt crisis? Get rid of federal student loans
IMAGE: zimmytws / Shutterstock.com
Like The College Fix on Facebook / Follow us on Twitter