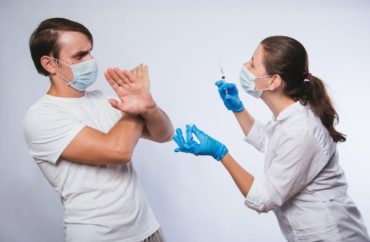 Employees could face termination
The University of Michigan has a vaccine mandate that requires all faculty, staff and students to get jabbed by August 30.
"All students, faculty and staff on all three campuses of the University of Michigan are required to be vaccinated against COVID-19 and submit their vaccination information before the start of the fall term," the university announced on July 30.
But three weeks after the August 30 deadline, 1 in 4 employees at the University of Michigan's Flint campus has not taken the shot, nor has a similar number of students.
"73.4% of students are vaccinated as of September 20, 2021," UM-Flint spokesperson Jen Hogan told The College Fix via email. "74.86% of employees are vaccinated as of September 20, 2021," Hogan said.
Currently, no students are facing disenrollment from the public university.
"The University of Michigan-Flint is working with students who are currently out of compliance with the policy," Hogan said. "No students have been disenrolled from classes at this time. Ongoing compliance will be addressed accordingly."
However, employees who refuse to get jabbed could be fired.
"Employees are required to follow the vaccine mandate policy," Hogan said. "Employees who are not in compliance with the mandate will be subjected to disciplinary action which could end in the loss of employment."
The original policy required people who were not vaccinated to wear face masks, but currently all UM-Flint community members are required to wear masks.
The university has tried to encourage more people to get vaccinated, offering incentives for those who do. UM-Flint is also hosting a vaccine clinic today.
The Ann Arbor campus has a higher vaccination rate among students and faculty.
The university reported that 95 percent of students have self-reported being vaccinated as of September 17, while the same rate of faculty is vaccinated. However, 83 percent of the staff is vaccinated.
The UM-Dearborn campus is hovering around an 80 percent vaccination rate. The dashboard, last updated on September 20, shows that 86 percent of the faculty is vaccinated, 87.80 percent of staff and 83.17 percent of students.
MORE: IU hospital system suspends 280 employees for vaccine refusal
IMAGE: Veron Art 16/Shutterstock.com
Like The College Fix on Facebook / Follow us on Twitter