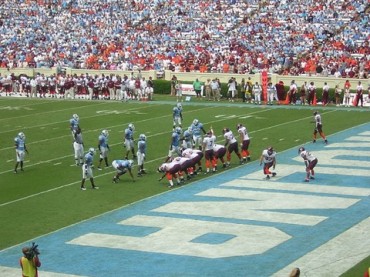 A study conducted by a reading specialist at the University of North Carolina reveals that ten percent of the school's football and basketball players read only at a 3rd grade level.
According to ESPN, Mary Willingham–a literacy specialist formerly employed by the university–worked with 183 football and basketball players at UNC from 2004 to 2012. Sixty percent read at an 8th grade level or below. Ten percent were below the 3rd grade level.
Willingham said she worked with on men's basketball player who couldn't read or write at all, ESPN reports.
After Willingham revealed her claims in a CNN story last week, the University of North Carolina promptly issued a statement saying it did not believe Willingham.
However, UNC is already under a cloud of suspicion with regard to the academic integrity of its scholar athletes–stemming from the recent revelation of long-term corruption in it's African-American Studies department, which operated hundreds of phony classes, classes that were particularly popular among athletes.
The classes were either barely taught or, in the worst cases, the professor didn't even bother to show up for the class.
More than five hundred unauthorized grade changes were also revealed during the university's investigation.
The scandal led to the unceremonious departure of former chairman of the African-American Studies department, Julius Nyang'oro, who faces criminal charges for taking money for a class he never taught.
In view of the longstanding corruption of the African-American Studies program at UNC, and the high level of enrollment among student athletes in the aforementioned phony classes, UNC's blanket denial that there is any literacy problem among its athletes is hardly reassuring.
Altogether, the evidence coming out of UNC reveals a culture that prioritized athletics over academics–not all that surprising at a big Division 1 school. But UNC seems to have taken this attitude to an extreme.
UNC tarnished its reputation badly when it failed to hold an entire department accountable for it's academic fraud over the course of more than a decade.
Even worse, UNC officials failed their students–both those who enrolled in this phony classes, as well as the vast majority who actually put their work into legitimate classes, earned legitimate grades, and expected to graduate from a university with a good reputation.
Despite their demonstrated failure to uphold academic standards for many years, university officials struck a defiant tone in their response to Willingham's claims, saying, "Our students have earned their place at Carolina."
Those officials don't seem to realize that that statement doesn't mean as much as it once did.
Like The College Fix on Facebook / Follow us on Twitter