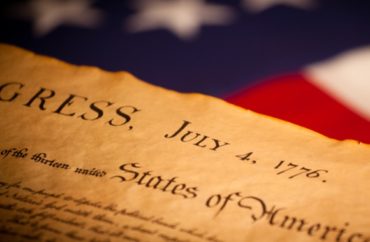 'We do this in the spirit of 1776, the date of America's true founding'
WASHINGTON — A group of prominent conservative black scholars, pastors and activists has unveiled an alternative to the New York Times' controversial and highly criticized "1619 Project" with a history initiative of their own dubbed "1776."
"I'm here for two reasons, I believe in America and I believe in black people," said Glenn Loury, a professor of economics at Brown University, one of many to speak at a news conference at the National Press Club on Friday to announce the effort.
Loury said the authors behind the 1619 Project "don't believe in black people."
The primary goal of 1776 is to create a counter-narrative to the one created by the NYT's 1619 Project, a set of essays published last year that aimed to reframe the country's history around 1619 due to the arrival in that year of 20 African slaves to a Virginia colony.
The 1619 Project is currently being used as curriculum in a growing number of schools despite calls for corrections from historians and other professors who say it's filled with distortions and inaccuracies, including claims Lincoln was racist and the American Revolution was fought to keep slavery.
In contrast, the 1776 initiative's mission is to "uphold our country's authentic founding virtues and values and challenge those who assert America is forever defined by its past failures, such as slavery," its website states.
"We seek to offer alternative perspectives that celebrate the progress America has made on delivering its promise of equality and opportunity and highlight the resilience of its people," it adds. "We do this in the spirit of 1776, the date of America's true founding."
The effort was organized by Robert Woodson, a prominent leader in the African-American community. At the news conference Friday, Woodson — surrounded by the numerous scholars contributing to the project — said that providing a proper account of the founding and the context of the nation's sins is necessary as a matter of truth, but also as a matter of national security.
If the black community in America is continually being told that they were victims of an immoral nation, Woodson said, "why would you want to defend a nation you've been told is immoral?"
"We want to provide an inspirational alternative narrative to what people are offering," he said.
Essays posted on the project's website include:
"'A dream as old as the American dream': Embrace black patriotism over victimization" by Clarence Page

"Children achieve the expectations we teach: Charting a path to a more perfect union begins with our guidance" by Ian Rowe

"The 1619 Project Depicts an America Tainted by Original Sin" by John McWhorter

"Slavery does not define the black American experience" by Wilfred Reilly

"Acknowledging Slavery's Limits in Defining America" by John Wood Jr.
At the news conference, Woodson said that the black community was "well on the way" to mending itself before the 1960s, noting that between 1940 and 1960 the poverty rate in the black community in America dropped by 40 percent.
Joining Woodson at the press conference were a number of conservative religious, cultural, community and educational leaders of the African American community, all of whom are contributors to the 1776 essay collection.
"Our activists are living examples of the founder's principles and their actions have served to transform inner-city communities," Woodson said. "Something tells me when I read them, that the 1619 Project authors don't. They don't believe in America, we're not a city on a hill, we're not a light unto the nations, and, I'm sorry to have to report, I get the impression that they don't believe in black people."
DePaul University philosophy Professor Jason Hill said that the 1619 Project "offers an indictment of the United States of America, a country that I think is the greatest, most unprecedented phenomenon that has ever existed."
Hill contributed an essay to 1776 titled "The Moral Meaning of America: Two Parallel Narratives." He said the goal of his work with 1776 is to show how the U.S. Constitution "provided…the tools for the inclusion of black people into…the human community."
"The 1619 Project would have us believe that blacks are not part of the moral meaning of America," he said.
Also featured in the program is political commentator and former Vanderbilt University law Professor Carol Swain, who contributed an essay titled "Critical Race Theory's Destructive Impact on America."
Swain, a seasoned political commentator and author, related her own experience growing up and through her undergraduate education, where she said she did not see herself as "handicapped" by her skin color.
Once she got to graduate school, she said, that's when she learned that she was oppressed for being poor, black and female, and that she "couldn't do any of the things I had already done."
"I believe the 1619 Project offers a very crippling message to our children and I was spared from having that message brought to me, and I believe that if I had been exposed to that, if I had internalized that negative message, I don't believe I would have been able to do the things I've done in life," Swain said.
"I believe in America, I believe America is the greatest country in the world, I'm a patriot, I will do everything that I can for this nation to bring it together, and I think that we do need to learn to love and respect each other," Swain went on, before adding that she believed that white children in schools are being shamed for the color of their skin and "black children are being told that because of structural discrimination that they can't, they can't, they can't."
But academics were not the only group represented in 1776. Taleeb Starkes, an author and filmmaker based out of Manhattan, declared that 1776 would "break the gravitational pull of victimhood."
Starkes said that he grew up in two "hoods": the hood of Philadelphia and the "hood" of "racial victimhood."
"On this Valentine's Day, the 1776 project is bringing a message of love, and sometimes love can hurt, like the truth," Starkes said. "And here's a truth that may be hurtful to some people's ears: America is not a racist labyrinth that's specifically designed to stifle the advancement of black people."
According to the biography provided by 1776, Starkes spent "nearly two decades mentoring at-risk, inner-city youth."
He was one of several community leaders that spoke at the press conference, which included Antonette McIlwan, a community organizer from Detroit, Michigan, and Latasha Fields, a homeschool mother from Chicago, Illinois, who leads several evangelical outreach ministries in the Chicago area.
The project's architect, Woodson, concluded the press conference by thanking those involved, and said that part of its goal is to provide alternative education materials due to the 1619 Project's adoption in many schools across the nation.
"We are committed to taking race off the table so we can come together as Americans and address the lack of content and meaning in lives," Woodson said. "This is our task."
MORE: Latest curriculum teaches Lincoln was racist, American Revolution fought to keep slavery
MORE: Professors tell New York Times to correct the many errors in its 1619 Project
IMAGE: Mike Flippo / Shutterstock
Like The College Fix on Facebook / Follow us on Twitter