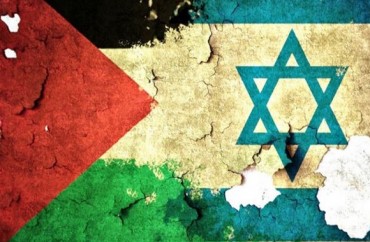 As pro-Palestinian protests continue on college campuses and student groups blame Israel for the recent Hamas terrorist attacks, a new poll found 51 percent of those ages 18 to 24 side with Palestinians in the conflict.
The poll also found a small but significant number of young adults believe "genocide" against Jews is "justified."
The Oct. 19 poll from Harvard CAPS/Harris found a consistent contrast between the views of young adults ages 18 to 24 and older Americans regarding the Oct. 7 attacks on Israel.
In particular, two questions about "genocide" and "justified" violence caught conservatives' attention online.
One asked if Hamas killing 1,200 Israeli civilians was "justified by the grievances of Palestinians," and 51 percent of young adults agreed – the only age group with a majority to do so. Overall, three fourths of respondents said no.
A second question asked if Hamas's "attacks on Jews were genocidal in nature," and 62 percent of young adults said yes.
That means 11 percent of young adults polled said they believe Hamas terrorists' rape, kidnapping and murder of innocent Israelis – women, children, the elderly – both was "genocidal" and "justified."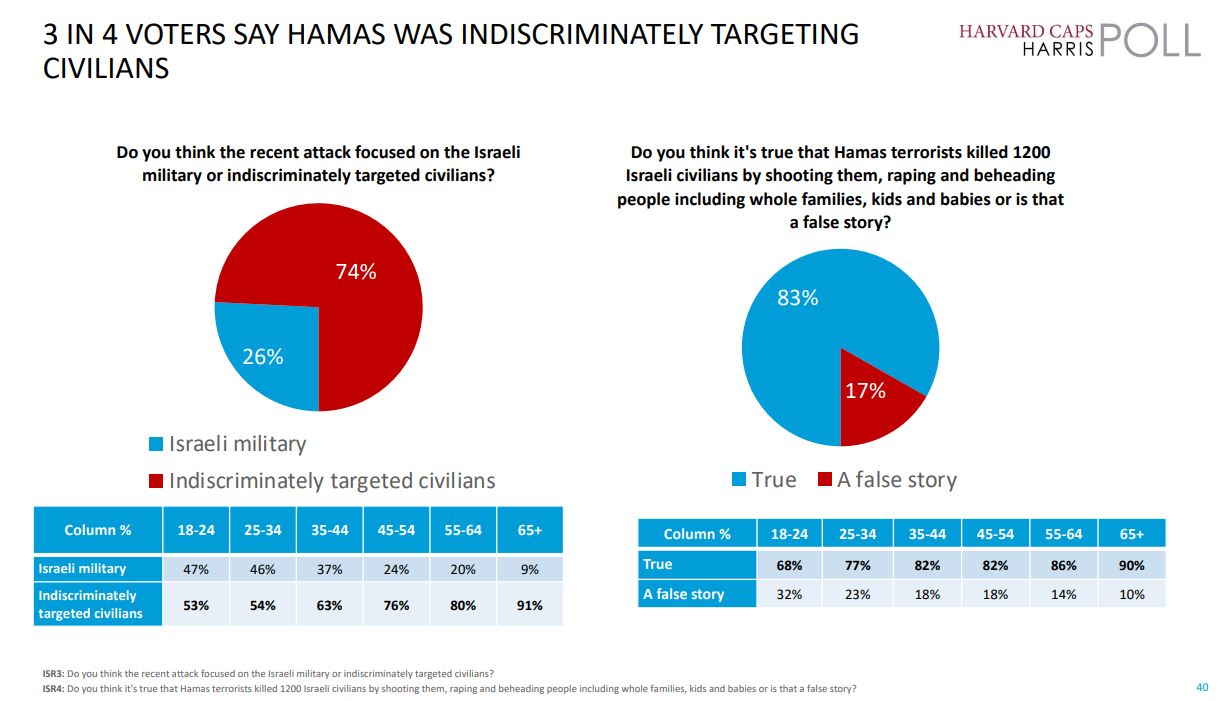 Responding Tuesday on X, Breitbart News writer John Hayward blamed the responses on Marxist views infiltrating American schools.
"Behold the rancid fruit of the Marxist oppression theology taught in our schools and broadcast by our left-dominated popular culture. 'Justified genocide' is now a thing," Hayward wrote.
David Bernstein, founder of the Jewish Institute for Liberal Values, expressed similar concerns about the poll, writing on X: "This. Is. Shocking. Do you think we might have ideologically conditioned young people to think this way?"
However, Joseph Klein, the Virginia state director of Atheists for Liberty, cautioned people about interpreting the results as support for genocide, noting how "a lot of questions cut the opposite way."
In an X post, Klein pointed to another question that found strong support among all age groups for Israel's right to defend itself against the terror attacks.
Even then, however, the young adults' response was much lower than other age groups, with 62 percent saying Israel has the right to defend itself, compared to 75 percent of 25 to 34 year olds and 84 percent overall.
Throughout the poll, the 18-24 year olds consistently had different opinions about the issue. For example, young adults were nearly evenly split between siding with Israel or Hamas in the conflict, while most Americans (84 percent) sided with Israel.
Additionally, 64 percent of young adults said they think the attack on Israel was a terrorist attack, compared to 76 percent of 25-34 year olds and 95 percent of senior citizens. Fewer young adults also were willing to call Hamas fighters "terrorists."
A press release about the poll highlighted the difference of opinion among young adults, noting a "significant number of young voters have their own facts" and "deny the atrocities committed."
Overall, 17 percent of those polled said they think it's false that Hamas terrorists killed 1,200 Israeli civilians by shooting, raping and beheading people, but the number nearly doubled to 32 percent among young adults.
The poll results mesh with recent pro-Palestinian activism on college campuses across the U.S., including violence and threats against Israeli students and supporters. Dozens of student groups at Harvard University signed a letter blaming Israel for the terrorism just days after the attack.
Last chance to support student journalists during our Back to School fundraising campaign! We're very close to our goal of $25,000. The deadline for the matching offer is quickly approaching so please donate by Oct. 31 to help us meet the goal. Thank you!
MORE: Michigan State apologizes for Adolf Hitler image on Spartan Stadium scoreboard
IMAGE: YouTube screenshot
Like The College Fix on Facebook / Follow us on Twitter