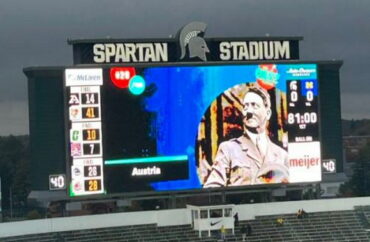 Michigan State University leaders have apologized and suspended an employee after a picture of Adolf Hitler was shown on the Spartan Stadium video board prior to Saturday night's football game.
The image was part of a trivia quiz from a third-party vendor and campus officials have said the game was not fully vetted before it was shown to attendees. The question was about Hitler's place of birth.
"The image quickly went viral and Michigan State issued a statement during the game apologizing for the incident, which it attributed to a third-party source that will no longer be used. A day later, a university employee has been suspended with pay and the Board of Trustees called for accountability," MLive reported.
The news outlet added that the "image was displayed more than an hour before kickoff before most of the more than 74,000 fans filtered in. A trivia question about the central figure responsible for the Holocaust drew widespread condemnation of Michigan State, which has an enrollment of more than 51,000 students who hail from 130 different countries."
The board's statement, released Sunday, stated in part that its members are "outraged at last night's incident at Spartan Stadium."
Uhhhhhhhhhhhhhhhhhhhhhhhhhhhhhhhhhhhhhhhhhhhhhhhhhhhhhhhhhhhhhhhhhhhhhhhhhhhhhhhhhhhhhhhhhhhhhhhhhhhhhhhhhhhhhhhhhhhhhhhhhhhhhhhhhhhhhhhhhhhhhhhhhhhhhhhhhhhhhhhhhhhhhhhhhhhhhhhhhhhhhhhhhhhhhhhhhhhhhhhhhhhhhhhhhhhhhhhhhhhhhhhhhhhhhhhhhhhhhhhhhhhhhhhhhhhhhhhhhhhhhhhhhhhhhhhhhhhhhhh pic.twitter.com/DvNk6A3vn5

— Alexander Haenke (@aphaenke) October 21, 2023
"The projected image was unacceptable, and as the oversight body for MSU we want to publicly apologize to everyone who was in Spartan Stadium or learned of this through other means. The board has spoken with Interim President Teresa Woodruff and Athletic Director Alan Haller and conveyed to them our extreme disappointment and our demand to know how this happened. MSU personnel must be accountable and held responsible for this disgusting display," the statement read.
"Every person in the MSU community and our guests deserve to feel safe and that they belong," it added. "The board does not condone bigotry of any kind. We will take necessary steps to ensure that our athletic department and the administration live up to that expectation at all times."
"The board demands that MSU administrators thoroughly examine all the factors and actions that led to this incident and report back to the board and the public about how this happened and who will be held accountable."
Haller and Woodruff have also released their own apologies and promises of review, MLive reported.
The incident comes on the heels of recent news that some MSU College of Law officials are concerned the Spartan helmet image may trigger assault victims.
As The College Fix reported earlier this month, one way the Michigan State University College of Law can show a commitment to diversity, equity and inclusion is by removing the image of its Spartan mascot helmet from promotional materials, according to school leaders.
MORE: MSU College of Law concerned Spartan helmet may trigger assault victims
IMAGE: X screenshot
Like The College Fix on Facebook / Follow us on Twitter