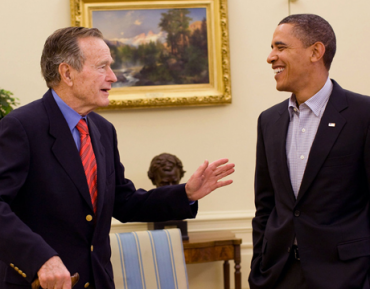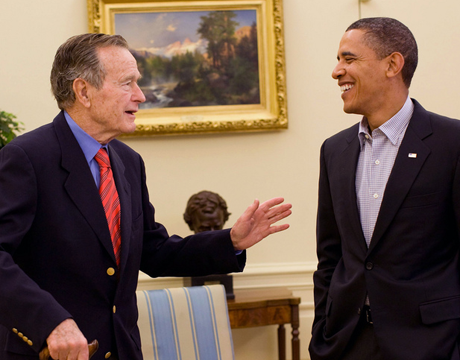 Seventy-five Dartmouth College faculty have signed a letter protesting the school's decision to award an honorary degree to former President George H.W. Bush.
The letter, printed below, blasts Bush as a symbol of "inherited privilege, the oil industry, and corporate wealth," and cites Iran-Contra, the Willie Horton attack ads, and even remarks made in 1963.
To: President Jim Kim and the Board of Trustees

The undersigned members of the faculty have learned with surprise and dismay that at the upcoming commencement ceremony, Dartmouth College will award an honorary degree to former president George H.W. Bush. As you know, conferring such an honor on a political figure is problematic. It may be justifiable in rare cases of exceptional service to the College or to the world at large, but it always carries the risk of being interpreted as a political endorsement. While we appreciate president Bush's efforts for humanitarian causes since he left office, we believe his record as a politician is difficult to reconcile with the values that Dartmouth stands for.

President Bush launched his political career in 1963 as a Goldwater Republican aggressively campaigning against civil rights legislation while denouncing Medicare as "socialistic." As a CIA director under Gerald Ford and as Ronald Reagan's vice president in the 1970s and 1980s, he was not only involved in illegal operations in Central and Latin America that left countless dead but also in the Iran-Contra scandal. And who can forget the infamous Willie Horton attack ads exploiting racial sentiments in his 1988 campaign against Michael Dukakis? To overlook such matters is to share in the general amnesia that afflicts American society every so often, or even worse, to contribute to current myths that depict the Reagan-Bush years as a golden era.

The selection of president [sic] Bush for this honor also comes at a difficult time for working families. After the 2008 crash of the financial industry that initiated the most severe economic downturn since the Great Depression, government intervention saved Wall Street at great cost to the average taxpayer. Since then, financial firms have been doing exceedingly well, corporate profits have rebounded, and bonuses for the captains of industry are back to their pre-2008 levels, while unemployment is stuck at 9%. The feelings of anxiety unleashed by the crisis are now skillfully redirected to demonize minorities, unions, women, and to dismantle support systems for the most needy among us, including in our home state of New Hampshire even the mentally and developmentally disabled. Under these circumstances, to award an honorary degree to someone who for many working Americans symbolizes inherited privilege, the oil industry, and corporate wealth, is most unfortunate.

Finally, we ask that the College review its policies on honorary degrees and commencement speakers. In the past years, the role of the faculty in awarding what is, after all, an academic honor, has been relegated to a nominal one, while outside interests and a mindless celebrity cult have become dominant. Unless the Board takes steps to restore proper faculty oversight, decisions such as these will continue to alienate a large part of faculty, students, and their families.
Like The College Fix on Facebook / Follow us on Twitter