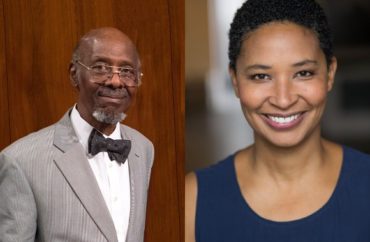 UPDATED
Both also discussed the importance of religion in civic engagement
America's founding gave us principles that free us and a legacy we must preserve, according to two professors who spoke together at Brigham Young University in Utah. William Allen and his daughter, Danielle, are both scholars of American political thought.
The Allens addressed BYU students and the general public on the topic of "Does the American Experiment Still Matter" in an event hosted by the university's Wheatley Institution, whose mission is to "fortify the core social institutions of the family, religion, and constitutional government."
"There has been quite enough time and quite enough accomplished since the Declaration of Independence to have established the reality of the United States and the principles upon which it was founded," William Allen stated. "They may have considered it an experiment at the time. We do not have that luxury."
William Allen is "a nationally recognized expert on George Washington and the American founding," according to his event bio. He is professor emeritus of political science at Michigan State University.
Danielle Allen, a political philosopher, ethicist and policy scholar at Harvard, encouraged BYU college students to reflect on the second sentence of the Declaration of Independence as a "gift and a treasure."
"That to secure these rights [of life, liberty, and the pursuit of happiness], Governments are instituted among Men, deriving their just powers from the consent of the governed," reads the second sentence of the Declaration
"That whole sentence leads to our responsibilities for what we do together for our safety and happiness," Danielle Allen said. "It puts the responsibility on our shoulders to diagnose whether we are building together instruments of shared decision making that can deliver on that."
Both Allens said they view the Declaration of Independence as a 'liberating document'
"Many people believe the Declaration of Independence led to systemic racism and exploration, but you believe the Declaration is a liberating document," event moderator Paul Edwards asked Danielle Allen, who concurred.
"John Adams was as much an author of the Declaration as Thomas Jefferson," she said. "John Adams never held slaves, never thought that enslavement was acceptable. The language of the Declaration was used by Adams in the Massachusetts Constitution, which before the end of the Revolutionary War, was used to abolish enslavement in Massachusetts."
"So the Declaration comes as much out of an abolition tradition as it comes out of a Jeffersonian tradition," she continued.
"[Danielle and I] both found after spending a very great deal of time poring over the Declaration of Independence an inner core – entirely independently of one another – of moral equality," her father added.
Danielle Allen also spoke to the generational divide in American politics today.
"It's just very painful to me, honestly, that for those of you on college campuses now, the only world you've known is one in which we are fighting so bitterly with each other," she said.
"It's important for us to set our faces to the future and figure out how we secure a healthy democracy for the 21st century, on 21st-century terms," she continued.
However, her father reassured the older audience members that the youth "can be trusted" with the American experiment.
"We have, in fact, a burden of knowing that if it does fail, it won't fail because the experiment failed, but because we failed," he stated. "And so when the young are invited to place in their hearts this inspiring incantation [the Declaration of Independence], we the elders have to remind ourselves that they can be trusted with it just as we were trusted heretofore."
The panel concluded with reflections on the importance of family and faith in civic engagement.
"People always want to know, how do kids become committed to civic engagement? How do we get that motivation to take responsibility for civic life? And I think part of the answer is family," Danielle said.
She shared that her family "covered the waterfront of political affiliations" when she was growing up. Her father ran for office as a Reagan conservative in southern California, while her aunt was running for office in the Bay Area as a member of the Peace and Freedom Party.
"I come from a family with deep traditions of civic engagement. My [grandfather] helped found one of the first NAACP chapters in northern Florida, which was exceptionally dangerous work; my great-grandmother and great-grandfather fought for women's rights to vote."
In discussing further their inspiration for civic participation, the professors also spoke about the significance of reading the Bible together as a family.
When asked what he loves most about America, William Allen said his highest obligation is not to the country but to God.
"The country is the place where I have been placed to do the work I have been put in this world to do," Allen said. "Not to love the country is to hate what God has assigned me to do."
MORE: U. Tennessee launching Institute of American Civics to combat ignorance of country's founding principles
Editor's note: This article had been amended to correct the name of the moderator. 
IMAGE: Wheatley Institution
Like The College Fix on Facebook / Follow us on Twitter