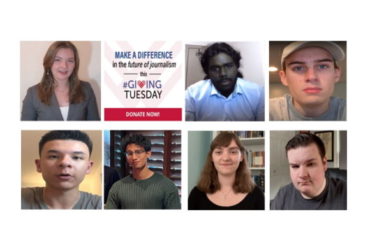 The college students pictured here all have one thing in common: they served as College Fix summer 2022 journalism fellows.
Starting from top left: Miami University's Charlotte Waldron worked at the Daily Caller; Grove City College's Isaac Willour at The Dispatch; and DePaul University's Dace Potas at Just The News.
On the bottom row is Princeton University's Matthew Wilson, who worked at the Washington Examiner; Emory University's Robert Schmad at the Washington Free Beacon; UNLV's Katelynn Richardson at the Washington Examiner; and Montclair State University's Kyle Schmidbauer at the New York Sun.
If you have ever donated to the Student Free Press Association, the nonprofit that publishes The College Fix, you've helped these seven students and others launch their media careers. Our network of young journalists are fighting to restore a sense of balance, fairness and honesty to the biased world of American media.
This Tuesday, November 29, is #GivingTuesday—the annual kickoff to the year-end charitable giving season. The College Fix has a fundraising goal of $10,000 for Giving Tuesday—and we invite you to join us to make that goal a reality.
As you may know, The College Fix recruits and trains talented, patriotic and hard-working student journalists, giving them a platform to reach a huge audience with news that college administrators often wish would never leave campus.

Through our network of college journalists, our talented staff, and our growing cohort of alumni, we turn up the heat on campus culture wars and give conservative, libertarian — or just plain independent — voices on campus a chance to be heard and shine a light on what is going on on their college campuses.
We trained 100 student journalists during the 2021-22 school year, and we are on pace to increase that number in 2023.
The College Fix does not force readers to unblock their ad blocker or inundate our readers with copious amounts of ads. But we do rely on donations to our nonprofit.
If you are in a position to help this Giving Tuesday, we appreciate it. Thank you for your support.
Click here to go to our secure online giving portal.
Like The College Fix on Facebook / Follow us on Twitter