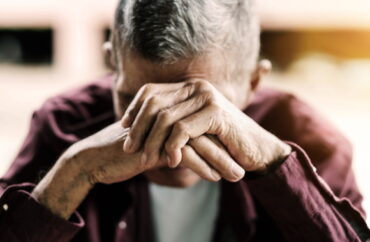 'I don't need a shoulder to cry on. I did all my crying right outside the commencement hall. My goal is to share a story about how campus political correctness and wokeism morphs into hatred for one's own family.'
Editor's note: Names have been changed to protect privacy
James Wilson will be the first to tell you he isn't the perfect father. He lost control too easily.
His divorce in 2005 to the mother of his two daughters was admittedly difficult. His decision to allow his ex-wife to raise his preteen daughters without too much interference was another misstep. In retrospect, he said, he should have been more proactive, more assertive.
Now it's too late.
In May, James, a 69-year-old financial analyst and Air Force veteran, found himself in tears outside the campus planetarium in which his youngest daughter, Pennie, was celebrating her graduation, earning a PhD in physics.
It was a small ceremony at one of the most liberal campuses in Colorado, and James wasn't invited. His decision to crash it ended in a failed attempt to reconcile with his estranged daughter.
"I had wanted to say, 'Pennie, congratulations.' But when she stepped around the corner and looked at me, the look of hate took me back," James said. "I didn't have a chance to say anything to her."
Soon after, an administrator assertively escorted him out. James said he didn't argue.
The story of how he ended up crying outside his own daughter's commencement three months ago is actually years in the making, and he said he hopes it serves as a warning to other parents who send their children off to college without thinking twice.
"I don't think if she had gone to Hillsdale, for example, she would be like this," James said in a recent telephone interview with The College Fix.
Pennie was raised Republican and Christian. But when she wanted to go to a mainstream public university on the East Coast that had an emphasis on STEM — and social justice — James didn't object. It was there Pennie met her future husband, Nathan, a diehard Democrat.
Soon their father-daughter conversations became strained, James said. They couldn't talk about politics. His decision to vote for Donald Trump in 2016 was nearly unforgivable.
"Phone calls with my daughter got more and more perfunctory," James said. "By 2018, she stopped calling me."
After Pennie graduated, she and Nathan moved to Colorado so she could earn a PhD. She married Nathan and they had a child. James has never met his granddaughter, Rose.
His desperate attempt in May to watch his daughter's commencement failed miserably, and as he sat outside on a bench after being booted from the building, something came over him, he said.
"I just bawled like a baby, it was so uncontrolled, it was anguish," James said. "There was nothing calculated or planned about that breakdown, it just happened, I am not ashamed. Finally, I collected myself."
He said he flew home to Florida knowing he did right by his daughter. Three months removed from the experience, James said he's not going to try to contact his Pennie again, but would happily accept contact from her.
"It was a heartbreaking experience to be rejected like that, but at the same time, it was the best gift I could give to her for her graduation, my tears that day," he said. "I wanted to show I love her and wanted to be part of this and come with an open mind and an open heart."
"Your emotions are the most valuable gift you can give."
James said he wanted to share his story with The College Fix because he firmly believes Pennie's attitudes were shaped by her academic environment. Yes, Nathan and his secular progressive beliefs influenced Pennie, but it's one piece of the larger puzzle, James said, adding "when you can cancel a speaker, you can cancel your own family."
Pennie and Nathan "cannot even tolerate having a Republican family member," James said.
"The trouble is I think I never renounced Trump," James said, adding if he would have done that she might have forgiven him.
But looking back, everything is speculation.
"Maybe I should have tried harder to bring her to church with me," James said. "Maybe I should have been more involved in her education despite what my ex-wife told me."
His advice to other parents: "Do not take the easy route."
Today, James said he prays about the situation, that there is not much more he can do.
"I don't need a shoulder to cry on. I did all my crying right outside the commencement hall," he said. "My goal is to share a story about how campus political correctness and wokeism morphs into hatred for one's own family."
MORE: Mothers in shock as daughters come home from college with mustaches, breasts removed
IMAGE: Mr. Mohock / Shutterstock
Like The College Fix on Facebook / Follow us on Twitter