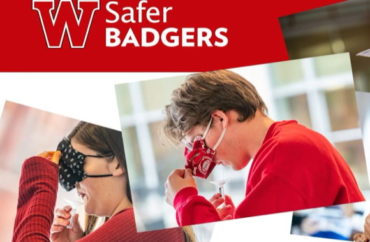 OPINION: UW-Madison has me spitting in a cup twice a week, and it feels excessive and even potentially reckless 
If you approached me last year at this time and told me my school was going to require each of its 45,000 students to spit in a cup twice a week, I simply would not have believed you.
Spitting in a cup is, however, exactly what UW-Madison is requiring of each of its 45,000 students this spring semester.
A new campuswide COVID testing measure borrowed from the University of Illinois is requiring every single student, including those living off campus, to submit a saliva COVID test twice a week in order to keep campus safe from the virus.
At this time, UW has not announced a return to in-person classes, which has many, including myself, confused as to why we are bothering to spit for our building access at all. I have yet to enter a campus building for academic purposes this semester — only to provide my spit.
The school claims the saliva test is quicker than the nasal swab, which was provided last semester, but this comes at the expense of accuracy as any sort of defect in the saliva sample can warrant a failed test. Anything from stray food particles to cloudy saliva can be grounds for a failed test.
Many of my friends have received late test results days after providing samples, or not even received results entirely. If we were really attending classes, this discrepancy in test results could cost us multiple days of instruction all due to proceedings out of our control.
Providing a sample is messy and unpleasant to say the least. One hour prior to giving a sample, we are not allowed to eat or drink anything including water. At the testing site, we are instructed to pool our drool and drip our saliva from our mouths into a small vial while making sure to replace our masks between drool sessions.
Proper samples must be within 1 and 1.5 milliliters as too much or too little spit can result in a failed test. If I gave the full 1.5 milliliters twice a week for the entire semester, that would equate to myself producing roughly 1.5 ounces of spit over the course of the semester. Multiplied by 45,000 other students, this equates to 67,000 ounces of spit produced this semester or nearly 528 gallons.
In exchange for our cooperation, we are granted a green "Badger Badge," signaling that we are allowed access to campus buildings. The badge, which appears on our "Safer Badgers" smartphone app, turns red and cuts off your building access if you have not provided a negative COVID test within the allotted three day time window. Badges are monitored by "wellness ambassadors" who guard all entrances to campus buildings.
Should we choose not to participate in our biweekly spewing, UW has announced a series of disciplinary measures that it will use at its discretion, including marking our permanent discipline record, a step that could cost some graduate school admissions.
"As more tests are missed, or if there is a pattern of missing tests, more serious sanctions could be applied. These can include disciplinary probation, which is part of a permanent disciplinary record. Disciplinary probation would be noted on a student's transcript and would impact the ability to study abroad and impose other campus restrictions. It is possible that a student who is significantly non-compliant on COVID testing could be suspended. We hope such a step would be rare," reads UW's testing compliance statement to its students in part.
Due to the numerous logistical errors with testing, UW has pushed back the date for requiring Badger Badges upon building entry three times already, casting even more doubt on the testing system.
As a student, the testing feels excessive as though administration sees us as the cause of the virus. I and my housemates have yet to contract COVID as we have mostly remained indoors this year per UW's request. Now, we are being told to congregate with other students as we wait to give our saliva, a request that feels quite contradictory and potentially reckless.
Only time will tell whether these new measures will help us conquer the virus. UW has yet to name a campus positivity rate that will bring back in-person instruction. As of right now, campus positivity rates remain at 0.5 percent and all time positive tests sit at 5,942.
MORE: Experts say university officials use COVID as excuse to stifle free speech
IMAGE: YouTube screenshot
Like The College Fix on Facebook / Follow us on Twitter