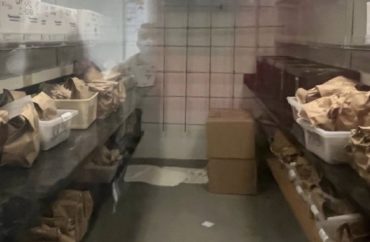 Pro-life groups recently released photographic evidence of the organ and tissue bank
Pro-life activists recently announced that they have caught the University of Washington storing aborted babies and fetal parts in brown paper bags.
Progressive Anti-Abortion Uprising, a liberal pro-life group, released its findings on March 23. The group, along with other pro-life organizations, took photos on March 9 at the university. The photos were taken at the university's Birth Defects Research Laboratory.
PAUU stated in its news release:
Just an hour before this photo was taken, these same activists confronted the UW Board of Regents during public comment to bring attention to the University's fetal experimentation program and to demand transparency and compliance with federal law.

In 2016, a select congressional panel found UW to be connected to highly suspicious fetal organ harvesting practices, with several members of UW staff employed by Seattle-based abortion facilities which supply the University with fetal remains, presenting a clear conflict of interest. The University has also brazenly failed to produce information subpoenaed by the congressional investigation specifically related to their fetal tissue procurement practices. The University along with Planned Parenthood and other abortion providers and researchers have actually sued to stop any disclosure of public records about these practices.
PAUU's executive director accused UW of fetal trafficking.
"The American people must be made aware of the mass dehumanization of these unborn children who are violently killed and thrown into a freezer," Terrisa Bukovinac stated. The baby body parts are "portioned out to researchers in pursuit of federal funding."
𝗙𝗢𝗥 𝗜𝗠𝗠𝗘𝗗𝗜𝗔𝗧𝗘 𝗥𝗘𝗟𝗘𝗔𝗦𝗘:
Pro-Life Groups Discover Freezer of Human Fetuses at the University of Washington

On March 9th at 6:30pm, Anti-Abortion activists from groups including PAAU, @TheSurvivors , @prolifesf, & @RehumanizeIntl gained access to the largest & pic.twitter.com/CQM4Sakuri

— PAAU (@PAAUNOW) March 24, 2022
"It is my hope that this photograph reminds us all that there are real victims being lethally oppressed by UW and traded like property," she stated. "Fetal trafficking is abhorrent and it must end."
A medical ethicist and researcher said that the practice of keeping human babies in paper bags is not only "unethical" but also violates storage protocol.
"[Donated tissue] would be properly stored in sterile containers … and frozen at an ultracold temperature, sometimes with chemicals to prevent degradation of the tissue," David Prentice with the pro-life Charlotte Lozier Institute told the Washington Examiner. "There is no proper way to store, whether it's a human fetus or any human individual, in a paper bag in the freezer. This is completely disrespecting a human individual to do that."
"It's immoral and unethical," he said.
MORE: Prentice raises concerns about Pitt's use of aborted fetal tissue
IMAGE: Progressive Anti-Abortion Uprising/Twitter
Like The College Fix on Facebook / Follow us on Twitter