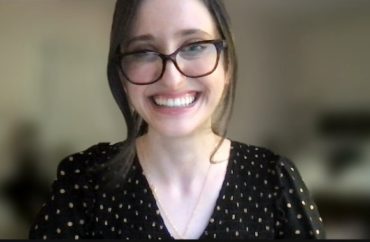 'I'm going to be an abortion provider!' the student boasted
A future OB/GYN and current University of Chicago medical student believes that abortion is both a "gift" and "life-saving."
"I felt a connection between my having an abortion and my ability to pursue my own education, to have economic freedom, to live my life the way that I wanted to," Shira Fishbach (pictured) told MedPage Today for an article about physicians and medical students killing their own babies.
"It felt like they were literally handing me that gift," she said of her 2017 abortion.
Fishbach will soon head to the University of Michigan to complete her residency.
"Dreams come true— I'm going to be an abortion provider!" she tweeted.
Her comments to MedPage elicited praise from Vineet Arora, the dean of medical education at the University of Chicago. "So courageous and a bright future ahead," Arora wrote on Twitter in response to the MedPage article that profiled the dean's research on abortion rates among medical professionals.
Grateful to our @UChiPritzker medical student leader @shirafish for agreeing to share her powerful story about abortion among physicians and trainees as an example of the people in our new study. So courageous and a bright future ahead #obgyntwitter! https://t.co/TrLlRB7WxC

— Vinny Arora MD MAPP (@FutureDocs) April 9, 2022
Fishbach previously called abortion "life-saving, life-affirming healthcare" when discussing the abortion of her seven-week baby in the womb.
She said that she killed her baby even though she had supportive family to help her out, a statement that undermines the argument from abortion activists that women have abortions because of economic situations.
"The minute I found out I was pregnant, I knew that my family was going to be emotionally and financially supportive no matter what I chose," she told MedPage.
And yet she still chose to abort her own baby five years ago.
Abortion does not help women
Abortion tears apart and destroys a baby and can lead to a poverty of the soul.
Fishbach took away from her parents a grandchild, took away from a father his own child and took away from herself an innocent baby who didn't do anything to deserve death.
She's about at the age where psychologist Jordan Peterson says young women realize a career is not the most important objective.
"Many 19-year-old girls I've talked to, many of them believe that their career is going to be the most important thing in their life," Peterson said.
"Very few 30 year old women believe that even if they have high-powered careers because they tend to discover that high-powered careers come at a substantial cost like 60-70 hour work weeks," he said during one podcast episode.
One day, we can only hope she will realize the gravity of the decision she made and reconcile her destructive decision.
Find information about post-abortion healing here.
IMAGE: Shira Fishbach/Twitter
Like The College Fix on Facebook / Follow us on Twitter