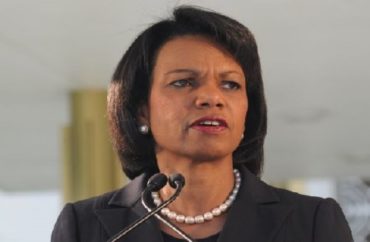 Numerous political scientists have signed on to a petition urging the American Political Science Association to rescind an award given to former Secretary of State Condoleezza Rice.
The former secretary of state, currently a professor at Stanford University, was recently granted the Hubert H. Humphrey Award for public service. The prize is given to one who "exemplifies the contributions that political scientists can make to public as well as academic life," according to the announcement.
But the petition created by Amherst College's Thomas L. Dumm and Jodi Dean of Hobart and William Smith Colleges points to Rice's tenure during the George W. Bush administration, specifically her role in the 2003 Iraq invasion and associated policies:
By giving the 2018 Hubert H. Humphrey Award to Condeleeza Rice the APSA has honored a person who actively participated in creating a rationale for the illegal invasion of Iraq, participated in and defended the creation of policies of rendition and torture against foreign nationals, supported the creation of a concentration camp at Guantanamo Bay, and aided and abetted the deliberate and systematic lies that were told to the American public to encourage their support for the invasion of Iraq, which, from its inception and to this day, has had catastrophic consequences for the world.
The petition points out that APSA members who recommended Rice for the award acknowledge the above: "[W]hile Rice indeed participated in the disastrous foreign policy of the Bush years, her action and that of her fellow members of the administration was taken in the heat of war, with incomplete information, and with urgent responses needed."
These members add that Rice's Bush administration activities are "overmatched" by her "other services to the country" including German reunification (during the George H.W. Bush administration as a national security adviser) and her "promotion of policies of development aid" in the 2000s.
However, it's not a matter of weight the anti-Rice petitioners say. The former Cabinet secretary should not even have been considered for the prize given the (second) Bush administration's "torture" policies.
Dumm and Dean both specialize in critical and feminist theory, and the latter's book "The Communist Horizon" is described thusly:
[…] Jodi Dean unshackles the communist ideal from the failures of the Soviet Union. In an age when the malfeasance of international banking has alerted exploited populations the world over to the unsustainability of an economic system predicated on perpetual growth, it is time the left ended its melancholic accommodation with capitalism.

In the new capitalism of networked information technologies, our very ability to communicate is exploited, but revolution is still possible if we organize on the basis of our common and collective desires. Examining the experience of the Occupy movement, Dean argues that such spontaneity can develop into a revolution and it needs to constitute itself as a party.
At press time the anti-Rice petition has 132 signatories.
h/t IHE
MORE: Students tell cops to arrest 'dangerous' Condi Rice during visit
MORE: White liberals try to block Condi Rice as guest speaker
IMAGE: US Embassy New Dehli/Flick.com
Like The College Fix on Facebook / Follow us on Twitter