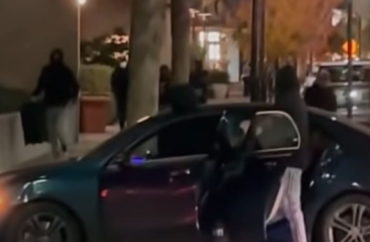 A pair of academics are warning against use of the term "looting" to describe recent retail thefts in San Francisco.
According to KGO, some area police departments have been using the word regarding incidents at mainly high-end outlets like Louis Vuitton and Burberry. The thefts have resulted in about $1 million in losses.
On Saturday, San Francisco Police Chief Bill Scott said the stores had been "burglarized and looted."
But also this past weekend, San José Police Department Public Information Officer Christian Camarillo specifically pointed out he wasn't going to use "looting" to describe the crimes. He referred to them as "organized robbery."
KGO Race and Social Justice Reporter Julian Glover notes the thefts technically are not "looting" according to California Penal Code. Looting entails thefts during a "state of emergency, local emergency, or evacuation order" as a result of a natural or manmade disaster.
Although no emergencies have been declared in the Bay Area, many of the recent thefts occurred after the Kyle Rittenhouse "not guilty" verdict. The University of New Haven's Lorenzo Boyd said however that the "massive, organized smash and grabs" were happening before the Rittenhouse verdict, thus any connection to it is a "false equivalency" and an attempt to "politicize crime."
ALERT: Check out our new Campus Cancel Culture Database!
Boyd also claimed that "looting" typically is used when "people of color or urban dwellers are doing something."
Martin Reynolds, Co-executive director of the Robert C. Maynard Institute of Journalism Education thinks back to Hurricane Katrina, when largely Black New Orleans residents were labeled looters for crimes of survival – stealing water, food, and supplies before federal government aid arrived.

"This seems like it's an organized smash and grab robbery. This doesn't seem like looting. We're thinking of scenarios where first responders are completely overwhelmed. And folks, often may be on their own," he said.

Both experts expressed the importance of media literacy for viewers to critically think about the language used by public officials and the media as we all try to make sense of these complex issues our society is facing.

"People draw their own conclusions, if the terminologies that you use are tethered to people's understanding of how they have been used in the past," said Reynolds.
At the Maynard Institute, Reynolds conducts diversity trainings via "Fault Lines," which addresses the "personal bias […] of race, gender, sexual orientation, generation, geography and class, as they apply to journalists, newsroom collaboration and coverage." The trainings' "fundamental question" is "How can you be a dismantler of systemic racism in your organization?"
MORE: Profs, students alternately cheer, play down looting and police destruction
IMAGE: YouTube screenshot
Like The College Fix on Facebook / Follow us on Twitter