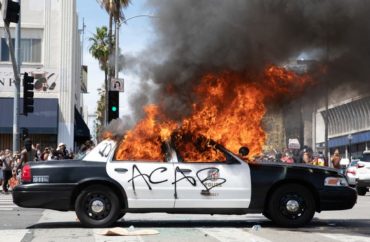 'Violent protest has a positive impact on political and policy change'
Amid the violence, property destruction and looting that followed the death of George Floyd at the hands of police, some American academics and college students don't see a problem.
They see a promising course of action – or just a minor distraction that has already received too much attention. And campus leaders aren't eager to show cooperation with law enforcement.
It doesn't matter that several of the purported reactions to Floyd's death have no obvious connection to racial justice or reconciliation, such as looting and vandalism of minority-owned businesses. Police are the villains for trying to restrain the destruction.
"Property destruction for social change is as American as the Boston Tea Party and the Stonewall riots," Steven Thrasher, Northwestern University journalism professor, wrote in Slate, placing his stamp of approval on the burning of a Minneapolis police precinct.
He termed the arson "reasonable." Thrasher did not respond to several emails from The College Fix last week seeking an explanation how the Lloyd-justified property destruction is like the Boston Tea Party, but #Reopen protests against coronavirus-related lockdowns are not.
MORE: Professor compares killing of George Floyd to religious worship
Daniel Gillion, political science professor at the University of Pennsylvania, told GQ that "violent protest has a positive impact on political and policy change."
In the article titled "Why Violent Protests Work," he explained: "Nonviolent protest brings awareness to an issue; violent protest brings urgency to an issue." Gillion agreed to an email interview with The Fix on Thursday but has not answered questions or responded to followups since.
Rather than provide an intellectual framework for rioting, an archaeology professor at the University of Alabama-Birmingham got more practical.
"Modern-day Indiana Jones" Sarah Parcak took to Twitter to offer up specific instructions on how to topple an obelisk (below) that "might be masquerading as a racist monument" in downtown Birmingham. Her instructions ended up working.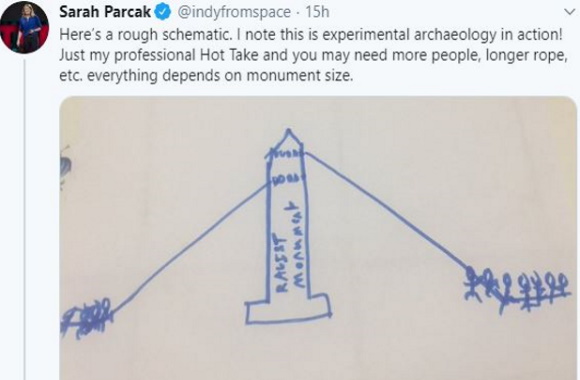 Trump is trying to 'start a race war' based on a 'distraction'
Peniel Joseph has a different take. The professor of public affairs at the University of Texas-Austin told KVUE that "the violence shown at protests should not obscure why all these people around the country are gathering."
The media's "fixation" on the violent nature of the demonstrations "takes away from the key issues" as to why people are protesting in the first place, he told The Fix in a phone interview Wednesday.
"We need to re-shift our focus," Joseph emphasized. "Focusing only on the violence only serves to benefit sympathizers of white innocence and white supremacy."
The professor accused President Trump of working to "start a race war" by pointing to violence as the only problem. He cited Trump's "threatening [of] military action" in response to cities that were on the brink of anarchy because of the protests. (Twitter banned retweets of Trump's tweet that reads "When the looting starts, the shooting starts," according to MarketWatch.)
"The news media is taking Trump's bait" in covering the violence, as if it were more of a problem than the "institutional racism" and killing of Floyd that evoked the uproar, Joseph said.
MORE: Joseph says 'we're missing the deeper historical roots' behind Baltimore riots
"Violence is obviously bad, and so is looting," but these are not worth dwelling on, Joseph (left) continued. "Doing so is a distraction to the issues that caused the demonstrations."
Students don't necessarily agree on what is obviously bad. Andrea Thompson, who studies political science at the University of Minnesota, was involved in the Minneapolis protests. They included the police precinct burning that Thrasher endorsed, as well as small business break-ins and a raided Target.
Thompson is "unbothered by the looting of chain outlets," according to Minnesota Daily. "I am completely in support of anyone looting the big corporations," because they "are insured, and they'll get their shit back, but a Black life that was taken cannot be brought back," she said.
One of her Latina classmates, who asked the Daily to remain anonymous, said her family's small business got destroyed by demonstrators. "There were no protests. It was just mayhem, to be honest," she said.
Concrete, fireworks, Roman candles lobbed at officers
As college students across the country participate in protests that cross the line from peaceful to destructive, some of their administrators are shifting the blame to police.
The faculty union at the University of Massachusetts-Boston raised objections to state police using its campus to practice strategies for crowd control. An administrator heard their cries, announcing that the state police will no longer be using the campus for such reasons again, according to the Dorchester Reporter.
Clark University in Massachusetts canceled its ad hoc hiring of off-duty Worcester Police Department officers, including to monitor large student events, after the department arrested four students at June 1 demonstrations where protesters attacked police and engaged in arson.
In a statement the next day, President David Angel (below) and President-elect David Fithian declined to dub the demonstrations as disorderly. "A peaceful protest in downtown Worcester in the early evening was followed by a smaller protest in our Main South neighborhood," they wrote.
MORE: Clark becomes national laughingstock for 'sexual coercion' definition
That smaller protest gave officers a workout, according to a statement by the police department. About an hour after the peaceful demonstration ended, "officers observed a separate, unruly crowd of about fifty to seventy people" that included the Clark students.
"Individuals in this group had thrown glass bottles at police cruisers, and they walked to Main St and began to block traffic," according to police, which said buildings were vandalized and neighbors asked officers to subdue the crowd. "The mood was violent and chaotic":
Members of the crowd began throwing objects at the police. One officer was struck in the head with a piece of concrete, and others were struck with rocks. Other individuals started shooting fireworks and Roman candles at the officers. An officer was struck in the chest by fireworks, which burned his uniform and skin.
The Main Street neighborhood where the protests took place was "filled with smoke from fires intentionally set by some people," according to MassLive. One police cruiser became ablaze after rioters launched fireworks at the vehicle.
The university was not persuaded that the police department's response – including use of riot gear and pepper spray – was necessary, even as it confessed ignorance of "the full circumstances or details of these events."
The police actions are "unacceptable and a source of dismay to all within our community," the statement read. "We share the anger and concern over these actions."
MORE: University investigates Instapundit for Charlotte riots tweet
Do students pay $60,000 to learn how to 'make sweeping character assassinations'?
Both city officials and campus police are backing municipal police on this dispute, however.
Worcester Mayor Joseph Petty said the police exercised both professionalism and restraint, given the chaotic nature of the situation. Since no one got seriously injured, "[t]hat means the police tactilely handled themselves [properly] in this matter," the mayor said.
In an open letter to Worcester police, the union representing Clark campus police expressed solidarity with local law enforcement, according to Telegram.com.
President Frederick Gehring of the American Coalition of Public Safety, Local 10, said four Clark police officers aided local law enforcement at the June 1 protests. His officers were "pelted with rocks, fireworks and paving stones" as soon as they arrived, and two university police cruisers were "significantly damaged" as well, Telegram.com paraphrased Gehring.
Taking a jab at Angel and Fithian (below), he continued: "Unfortunately, some have prematurely passed judgement on this action without having all the facts known."
The New England Police Benevolent Association, Local 911, which represents Worcester officers, took a bigger jab at the university itself, according to Telegram.com. It asked sarcastically if students pay $60,000 per year in order to learn how to "make sweeping character assassinations of an entire group of public safety workers though admitting you don't know the facts or circumstances."
Clark has since hired a law firm to conduct an independent review of the events that took place on June 1, Angel and Fithian said Friday. They attempted to downplay the school's decision to decouple with local police, saying the department "continues to play the critically important role in responding to campus emergency calls that it always has."
Other steps the school is taking include "immediately initiating a comprehensive evaluation of anti-bias and de-escalation training of our police officers, and other staff," leaders said June 2.
MORE: UC-Berkeley student paper says riots are 'free speech'
IMAGES: Hayk_Shalunts/Shutterstock, Sarah Parcak/Twitter, University of Texas, Clark University
Like The College Fix on Facebook / Follow us on Twitter