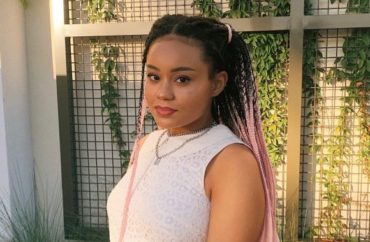 Elected student leaders regularly targeted with sexual misconduct accusations
Women are not incapable of choosing to have an orgy, as an appeals court informed Arizona State after it wrongfully expelled a male student.
Yet when a woman suggested it to other women while under the influence of hallucinogenic mushrooms, one of them accused her of sexual misconduct.
That's the story told by University of South Florida-St. Petersburg student Daymia "Mia" Bonilla (above) in a letter to the editor of The Crow's Nest last month, adding details to what she told the student newspaper in December, when the Title IX investigation launched.
The freshman, who is studying forensic science so she can "process rape kits," was newly elected to the student government when she faced allegations of sexual harassment and "non-consensual sexual contact" with a student in a dorm room.
She told the newspaper in December that the incident happened Oct. 26 with the accuser and a third student, who all took the mushrooms. Bonilla claimed she "felt pressured" to take them because she was a new student and "wanted to fit in," in the newspaper's words.
The accuser threatened to file a Title IX complaint against her if she didn't resign from the senate, Bonilla claimed. While she admitted taking off her shirt and proposing "an orgy," Bonilla denied the claims, saying the accuser and her friends are "not trustworthy people" and are "very dramatic." (The newspaper said it has reviewed the accuser's complaint but did not quote from it, instead attributing details to Bonilla.)
In her April letter to the editor, Bonilla adds more details and explains why she eventually resigned from the senate, as her accuser wanted: "I was tired of being glared and laughed at in every meeting I attended by these people, along with personal issues I was going through apart from this." (Bonilla's Feb. 27 resignation statement didn't mention the Title IX investigation.)
She claims the other two women pressured her to take 3.5 times as much mushroom as she wanted, "way too much for a first-timer." Bonilla portrays them as the aggressors, taking advantage of her naivete and history of "depression and anxiety":
When I took my shirt off, I asked politely, and they all were telling me it was okay and to do whatever made me comfortable — especially because we were all very close friends at the time. When I asked to have an orgy, it was mostly a joke that we all laughed at. When they said that they didn't want to do it, I did not ask again. When I lay in bed with the accuser, I asked if it was okay. We were really close girl friends and had done stuff like that before. If she seemed uncomfortable in any way, I would not have done anything.
MORE: Appeals court orders ASU to reverse threesome-based expulsion of male
The accuser speculated that Bonilla had been a child victim of molestation and made negative comments about her to others, including that she had "daddy issues and that I needed deep psychological help," Bonilla wrote.
In the only nod to the accuser's identity in any Crow's Nest article, Bonilla speculated the accuser might be seeking to "divert attention away from herself because she had multiple articles written about her own controversies in The Crow's Nest before this."
What's clear to her is that the accuser wanted to "blackmail" Bonilla, filing the Title IX report right before her first senate meeting. Someone in the accuser's orbit tipped off the newspaper "15 minutes after the report was filed."
Bonilla said she is considering "legal action because of how deep this false accusation has buried me."
The Crow's Nest reported this week that Bonilla's investigation is "apparently ongoing" six months after it began. A newer Title IX investigation has been launched against another student government leader, former senator and lieutenant governor-elect Isaiah Castle, but his accuser has not filed charges with either campus or city police, according to the newspaper. Castle said he's cooperating with investigators and expects to be cleared of "any wrongdoing."
Sexual misconduct claims against elected student leaders seem to be a recurring pattern at St. Pete, as the campus is known.
The Crow's Nest reported a year ago that a local court overturned the 2017 expulsion of Samuel Goetz, vice president-elect, on due process grounds after the university found him responsible for sexually assaulting a female student. In a settlement, the taxpayer-funded institution reduced the expulsion mark on the transcript to suspension with "an ongoing restriction from access to the University."
MORE: Judge approves Title IX suit against ASU for threesome expulsion
MORE: University educates students on 'negotiating successful threesomes'
IMAGE: The Crow's Nest courtesy of Daymia Bonilla
Like The College Fix on Facebook / Follow us on Twitter