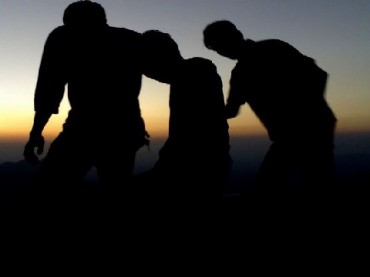 The University of New Mexico has launched its first-ever "Sex Week" observance this week with a controversial agenda that includes workshops such as "How to be a Gentleman and Still Get Laid," "Negotiating Successful Threesomes," "O-Face Oral" and "BJs and Beyond" – seminars that have prompted concern from some conservative students on campus.
"It's gross … and offensive," said 21-year-old junior Sade Patterson in an interview Monday with The College Fix. Patterson is vice president of Students for Life UNM, and she and her group recently penned letters voicing concern about the events to the dean of students and the campus newspaper.
"There is nothing wrong with telling students how to prevent diseases and unplanned pregnancy, because it's better if they are prepared … but these events are not displaying a concern for students' well being. I see it as a way to push the concept of free and non-consequential sex on students, just have sex with whoever you want to and there is not going to be any consequences – have a threesome."
But Reid Mihalko, the sex educator slated to lead many of the presentations, said in an email to The College Fix that his workshops are helpful and college-age appropriate.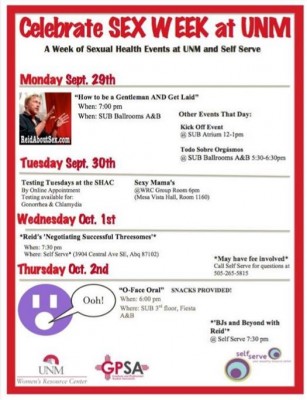 "Whether it's how to use lube and condoms to enhance the safety and pleasure of a blow job or how to have … a 'Safe Sex Elevator Speech' so you can have a safe and healthy threesome, all of my classes, no matter how outrageous, provocative, or explicit the titles may be teach adults better communication and intimacy skills, offer accurate sexual health information, and do so in a non-fear based and 'edutaining' environment," he said.
Patterson, for her part, said she and her group planned to set up a table at Monday night's "How to be a Gentleman and Still Get Laid" campus event, led by Mihalko.
"The biggest act of being gentleman is accepting fatherhood," she said. "We are going to be there and have a presence. We are not protesting or anything like that, we want people to know there are responsible people on campus who will help them."
Meanwhile, the University of New Mexico published a statement on Monday defending the Sex Week agenda.
"Our rational is that by teaching medically accurate sex education with prevention infused throughout, we will be heard by the folks who need this info the most. Young people are arguably interested in sex and many of them have had limited or no sex education. In teaching them about sex, we can also teach them about healthy relationships and consent," said Summer Little, director of the campus Women's Resource Center, a co-sponsor of Sex Week.
Citing the "provocative nature of the titles of the workshops," the statement adds "the university is dependent upon the unfettered flow of ideas, not only in the classroom and the laboratory, but also in all university activities. As such, protecting freedom of expression is of central importance to the university."
Many of the Sex Week seminars are slated to be led by self-described "Sex Geek" Reid Mihalko. Last week he gave his "How to be a Gentleman and Still Get Laid" presentation at Lynchburg College, and he used a vulva puppet and a rubbery-looking dildo to educate the packed audience of Virginia college students on the nuances of stimulating the male and female nether regions, The College Fix reported.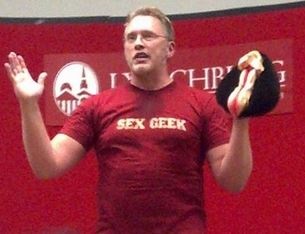 "I use puppets and marital aids in my lectures to lessen cultural shame around our bodies and to educate men and women on how to better pleasure their partners," Mihalko said in an email to The College Fix.
As for the "Negotiating Successful Threesomes" and "BJs and Beyond" presentations, he is set to give those later this week at Self Serve, an adult business in Albuquerque. Students are asked to pay an additional fee to attend those seminars, and space is limited.
Asked whether such topics "cross a line" with students, Mihalko said no.
"Educational workshops that cover explicit sexual topics only cross a line in terms of what 'society' deems 'appropriate,'" he said in an email to The College Fix. "The societal attitudes that say talking openly and educating college students about sex are wrong or dirty are the same attitudes that have inadvertently caused an epidemic of sexual assault and domestic violence on campuses."
"My sex-positive educational workshop on fellatio teaches men and women how to feel confident about other people's bodies, how to understand their own, how to have safer oral sex, and increases their sexual self-esteem," he added. "When people have increased sexual self-esteem they generally have more self-esteem in general. People with higher self-esteem and accurate sexual health information make healthier sexual and relationship choices in life. Don't colleges want their students to be making healthier choices in life?"
Jennifer Kabbany is editor of The College Fix (@JenniferKabbany)
Like The College Fix on Facebook / Follow us on Twitter
IMAGE: Main, Morkiro/Flickr; Inside – Internet screenshots