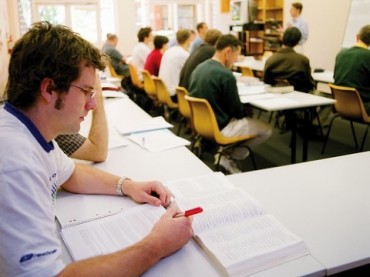 A group of students who accused their private New York university of systemic racism, saying their campus is filled with people who act bigoted and ignorant toward their peers, won on Friday their five-day battle to strong-arm the university into creating a widescale new set of diversity requirements.
Although, from the response the university gave, it appears Colgate University's leaders were only too happy to agree to the demands without question or much equivocation.
The 100 or so student protesters at the small, liberal arts college – which enrolls roughly 2,900 students and charges nearly $50,000 annually in tuition and fees – ended their sit-in Friday following university administrators' decision to cave to the group's 21-point demand list.
Campus officials essentially agreed to nearly everything on the list, including to mandate diversity training for its admission staff, ambassadors, tour guides, financial aid administrators and student leaders on campus, according to a website called "Colgate For All," which details campus leaders' response to the protest.
Although campus leaders stopped short of requiring all faculty to take diversity training, they agreed to expand faculty training sessions to include subjects such as "unconscious bias." With regard to hiring, while they sidestepped the students' demand to hire more minorities outright, they promised to "expand our faculty from multicultural domestic and international backgrounds" and to employ new professors who show they can promote "a diverse and inclusive educational environment."
They also promised to fund five new classes on "Intergroup Relations," which should be on the 2015-16 course catalog. And they pledged to install diversity benchmarks into staff and administrators' job evaluations. "Colgate is revamping every non-faculty job description on campus," officials stated in their point-by-point response.
"Inclusion and diversity will be a required competency for every employee," campus officials added. "As a result, every performance evaluation done on an annual basis will include how employees work towards attending to diversity in their job."
For students, campus leaders said from now on they'll make diversity the main theme of annual orientation programming for freshmen.
Administrators also agreed to offer students free transportation routes in a new pilot program, as well as install cameras on campus shuttles to combat what students say are "instances of racism, aggression, and micro-aggression that take place on the cruiser."
The changes were agreed upon after a student group called the Association of Critical Collegians began their sit in at the New York university's admissions office, presenting administrators with their petition. This in response to students using homophobic and racial slurs on campus and in anonymous social media posts.
"We are outraged that not all students feel fully included or welcomed on our campus," Jeffrey Herbst, president of Colgate, stated in a news release. "Acts of racism and homophobia have no place at Colgate and will not be tolerated."
Students, professors and others celebrated their victory on Twitter over the weekend, with one saying: "By my count, the administration's statement includes more than a dozen verifiable commitments with hard deadlines before the January."
According to various news reports, students were upset for a variety of reasons, including Yik Yak posts such as: "I chose Colgate for the lack of it's [sic] diversity." Read another: "White people won life, Africa lost, sorry we were so much better than you that we were literally able to enslave you to our will."
Students also claimed they were victims of microaggressions, alleging a female student was made fun of because of her braids, a black student was called the N-word on one of the campus shuttles, and a professor trying to get into her office on a weekend was reported as a "suspicious person."
Students, in their 21-demand petition, stated that "we imagine this reality as one in which every community member understands how systemic structures shape power and privilege; in which we collectively resist structural demands to assimilate, subordinate, and exclude."
"And in which we refuse to participate in habits of mind and interpersonal relations that foster and even perpetuate microaggressions against minority groups on a daily basis."
College Fix reporter Derek Draplin is a student at the University of Michigan.
Like The College Fix on Facebook / Follow us on Twitter