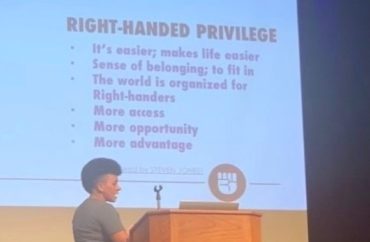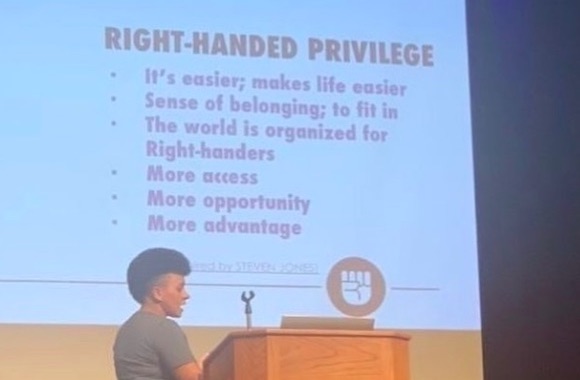 The University of North Carolina Chapel Hill recently hired a progressive activist to give a lecture as part of a mandatory Office of Fraternity & Sorority Life program.
One of the topics: "right-handed privilege."
Led by Christina Parle of the group Social Responsibility Speaks, the event presented "political opinions on intersectional identity, systematic oppression through implicit biases, and identity-based privilege" as fact, according to the Carolina Review. 
Parle, who "believes she has a social responsibility to educate others and create space for dialogue related to foundational [equity, inclusion and diversity] concepts," began with an indigenous land acknowledgment, and then delved into the concept of "privileged identities."
"How many of you, when you go to the grocery store, need somebody to help you with the top shelf?" Parle asked. Because supermarkets use the law of averages and build for the "average height person," Parle says this is a "system of oppression."
ALERT: Check out our new Campus Cancel Culture Database!
Parle followed up with the example of an overweight person having to purchase two airline tickets — more "oppression." And then the coup de grâce:
Parle asserted that right-handed privilege is yet another system, explaining that it has "made left-handed people invisible by setting the standard." A slide explaining the advantages of being aligned with systems of power and another on the privileges of right-handedness emphasized how "this system supports, empowers, and advantages the right folks," while it "disempowers, or sometimes harms, the left folks." After a moment of consideration, the labels of "right-handedness" and "right-handed privilege" were replaced with "whiteness" and "white privilege." Next, the words "able-bodied" and "ability privilege" were shown, drawing a direct conflation between the various culprits of systematic harm.
Parle became irritated with students not taking her seriously after she put up several images including "a doctor in a hijab, an Asian child doing math, an amputee competing in the long jump, an overweight child eating a burger, and a boy playing with a pink doll house."
When asked for their "first thought" about each photo, students yelled out terms like "burgers!" and "toys!"
"So here's the deal," Parle responded. "Some of you are saying it out loud because you think it's funny but realistically, all of your brains are doing things that are probably a lot more shitty [sic] than burgers and toys."
One student told the Review there is "no way the university should be funding [Parle's event]." Another said Parle was "very aggressive and accusatory" … which is weird given the diversity "expert's" work deals with conflict resolution and "creating a space where people at different levels of knowledge on [equity and diversity] can learn individually and together."
MORE: Profs seek to undo the 'unearned benefits' of 'family privilege'
IMAGE: Instagram screencap
Like The College Fix on Facebook / Follow us on Twitter