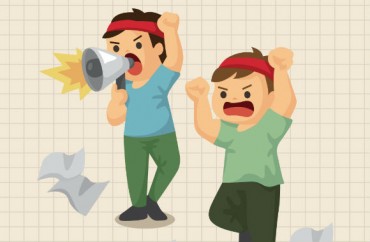 A group of students interrupted Cal State Stanislaus President Ellen Junn's welcome address on Monday, demanding the expulsion of a white nationalist student.
Protesters chanted "Stand against hate at Stan State!" and held posters stating "Don't let what happened in Charlottesville happen here!!!" and "When you give Nazis a platform, they bring torches. Expel Damigo."
According to The Sacramento Bee, that would be Nathan Damigo, a 31-year-old ex-Marine and founder of Identity Evropa who helped organize the (ultimately deadly) white nationalist march in Charlottesville a week and a half ago.
Graduate student activist Laura Machado said "We are trying to put [President Junn] in a position where she needs to take a stance. … Various students on campus have repeatedly addressed her and tried to raise the issue of having white supremacists on campus where they can openly recruit (which) is a danger to our student body."
President Junn's office did confirm Damigo is enrolled at the school, but noted it cannot violate any student's privacy rights.
"If a line is crossed, I as president will take swift action," Junn told the audience. Her remarks about consulting with a legal team "to provide me context to make a rational decision based on circumstances and evidence" seemed to indicate that she continues mulling options.

Meanwhile, Junn said a "spirit of hate and violence" is "absolutely abhorrent. We don't believe in any of those things." …

Addressing the audience long after protesters had left the auditorium, Junn said, "They were shouting and passionate and wanted to express their views, which is fine. That's why universities are here, to promote lessons of inclusion and strengthen civil discourse. I appreciate everyone's patience in giving them the opportunity."

Outside, Machado, who is following a teaching credential program, said, "It's not (students') job to protect the campus from white supremacists. Everyone has seen what happened in Charlottesville."
Damigo is the man seen in a viral video decking Antifa activist Louise Rosealma during a fracas between the two groups back in mid-April.
MORE: Teacher arrested for assaulting white nationalist: Violence against far-right 'not a crime'
MORE: College officials struggle to keep students away from white supremacist demonstrations
Like The College Fix on Facebook / Follow us on Twitter
IMAGE: Shutterstock