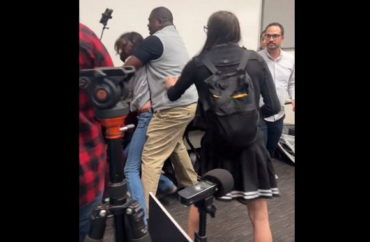 A pro-life student event called "Lies Pro-Choicers Believe" at Virginia Commonwealth University on Wednesday descended into violent chaos after activists engaged in violence against organizers.
Students for Life of America stated in a news release Thursday that the president of Students for Life at VCU "received an injury to her leg while a fellow student suffered cuts and scratches from aggressive protestors clawing at her."
The Richmond Times-Dispatch reported Thursday that "VCU police arrested a 22-year-old resident of Richmond, who was charged with simple assault. Also arrested was … a 30-year-old Richmond resident who was charged with disorderly conduct. Neither is affiliated with VCU."
The protesters had yelled for about 30 minutes "until it escalated into a fight" that VCU police broke up, the newspaper reported.
Students for Life at VCU had invited Students for Life of America President Kristan Hawkins to speak at their event.
A video posted on Instagram by young conservative activist Isabel Brown, who was also leading the event, shows Brown trying to engage the demonstrators in civil discourse as the group chanted and shouted the pro-lifers down, telling them to go home.
Another video posted by Students for Life of America shows more of the brawling and argues it was police who shut down the event rather than kick out the disruptive protesters.
The news release published Thursday by Students for Life of America stated the protesters repeatedly chanted "fascists go home," "Nazis go home" and "f**k pro-lifers."
"As a series of altercations unfolded, a number of pro-life students and SFLA staff were assaulted resulting in several complaints filed and EMTs called to the scene to treat injuries," the news release stated.
"… [A]s security tried to assist one pro-life woman in the crowd, people fell against each other because of the press of bodies, leading one pro-abortion woman to attempt to argue she may have been assaulted," it stated.
"…City police were called and oddly detained SFLA team members and the pro-life students, allowing the Antifa and Transgender activists to disperse peacefully. Meanwhile, peaceful pro-life individuals were behind closed doors, and SFLA property and signs were stolen and vandalized," it added.
MORE: University of Florida grad student attacks cop during abortion rally: report
IMAGE: Twitter screenshot
Like The College Fix on Facebook / Follow us on Twitter