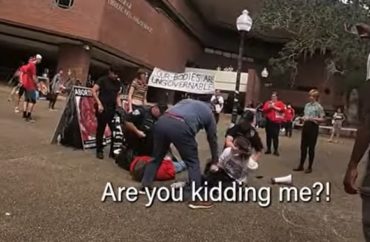 UPDATED
Another student also resisted arrest after stealing a pro-life sign
Police charged two University of Florida students, including one who leads the campus graduate assistants union, with attacking police officers during a pro-abortion rally.
Graduate Assistants United Co-President Bryn Taylor is accused of "aggravated battery on a law enforcement officer, identified as Detective J. Tarafa, and resisting an officer with violence," according to the campus newspaper the Alligator. The student newspaper obtained police reports for Taylor's arrest and fellow student Ian Dinkla.
The arrests occurred after the pair along with 18 others, according to the student newspapers, were counter-protesting in support of abortion last Friday, March 10. Taylor assaulted the detective while he and another officer were attempting to arrest Dinkla.
Taylor is also involved with the campus Young Democratic Socialists group and led protests against new UF President Ben Sasse. 
Pro-life group Created Equal was on campus with displays that showed abortion imagery. The group posted footage of the arrest.
The student paper reported:
Roughly 20 students gathered in Turlington for a UF Rally for Bodily Autonomy organized by the university's Young Democratic Socialists chapter. The rally coincided with the presence of Created Equal, a traveling anti-abortion group that's been tabling on campus since Monday. The group set up several 4-foot-tall signs depicting images of unborn fetuses.
Dinkla took a sign from Created Equal valued at about $120, according to the police report.
Taylor struck an officer in the head with a bullhorn, the police report alleges, leading to the charge of aggravated battery.
Taylor is a doctoral student in the speech, language, and hearing sciences department, according to her profile on the graduate assistants website.
Editor's note: The article had been updated to remove an inaccurate name listed for Taylor.
MORE: Students for Life staff member assaulted outside Supreme Court
IMAGE: Created Equal/YouTube
Like The College Fix on Facebook / Follow us on Twitter