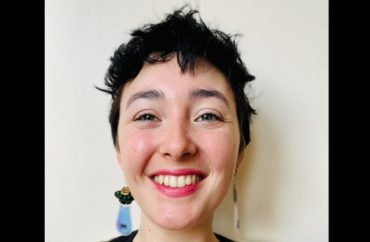 UPDATED
Remember the University of Cincinnati adjunct professor who gave student Olivia Krolczyk a zero for using the term "biological women"?
Melanie Nipper now has been formally reprimanded and ordered to take training on the school's free speech policies.
In addition, Nipper (pictured) "must submit all syllabi […] at least two weeks prior to the beginning of classes for review and approval," according to an official document.
"You are reminded that as an unrepresented, unclassified 'at will' employee your employment may be terminated with or without cause," the reprimand reads. "It is imperative that you understand that failure to follow University of Cincinnati's policies and procedures may result in further corrective action up to and including termination of employment."
The Cincinnati Enquirer reports Nipper already has appealed the sanctions.
On June 29 Nipper told the paper that "the culture war, and legislation it has triggered, stifles the ability of teachers to teach."
Nipper had told the Enquirer shortly after news of the original incident broke that she "feels it is necessary to correct" students when they use "outdated terminology."
MORE: Student says she got a zero for using term 'biological women' — in women's studies class
Ashley Currier of the UC Department of Women's, Gender and Sexuality Studies issued the reprimand. The letter notes Nipper violated "three subsections" of the UC Free Speech Policy, including the "campus will always be a 'marketplace of ideas for all students and all faculty' where no thoughts should be censored because they're deemed offensive."
Apparently Nipper's appeal is based on part of the policy that says instructors can limit speech when it's "reasonably related to a legitimate pedagogical purpose, such as classroom rules enacted by teachers."
This is consistent with what Nipper previously had said — that classrooms "should be places for debate and discussion," but "that ends when 'you are, intentionally or unintentionally, participating in a systemic harm of some kind,'" such as transphobia or white supremacy.
Nipper said she told Krolczyk that "changing her topic/choice of words to include all women was necessary to […] engage in the theoretical teachings of the authors in the course regarding cisheteronormativity and the gender/sex system" and that there were no assigned texts in the course which "are supportive of trans-exclusionary feminism."
For her part, Krolczyk told OutKick recently that she also had been "docked" a grade after telling Nipper it was "unfair to generalize and say that all white men are privileged."
UPDATE: The Cincinnati Enquirer reported on July 6 that Nipper's official reprimand was issued "in error" and will be rescinded. She will still have to attend free speech training, however.
Nipper said "the fact she had to make [her] argument at all shows 'more restrictions on inclusion, diversity, equity, and justice-oriented disciplines are imminent.'" She added her predicament shows "the very real harm and threat people can pose when their worldview is informed by white supremacy, cisheteronormativity, classism, patriarchy, and more."
Krolczyk said the decision "has solidified that using 'biological' is a harmful, transphobic and outdated term" and added "the university shouldn't pick and choose which policies they decide to enforce based on whether the professor follows in line with their 'woke' ideologies or goes against them." 
MORE: University bans 'degrading language' while promising 'greatest possible degree' of free speech
IMAGE: Melanie Nipper/Facebook
Like The College Fix on Facebook / Follow us on Twitter