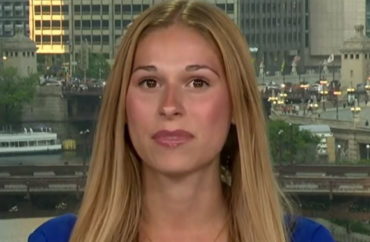 A University of Cincinnati student alleges she got a zero on a class assignment for using the term "biological women" in a women's studies class, with the professor calling the term "exclusionary."
Twenty-year-old sophomore Olivia Krolczyk first told her story in a now-viral TikTok video, and this week gave an interview to the New York Post and Jesse Watters Primetime on Fox News to further share her experience.
Her TikTok video includes an image of an email she received from her professor which states in part: "Olivia, this is a solid proposal. However, the terms 'biological women' are exclusionary and are not allowed in this course as they further reinforce heteronormativity."
She has not named her professor publicly.
In her video on her popular TikTok channel, oliveourviews, she said: "I 100 percent know that this is like the most biased grade ever because my project is about transgenders competing in biological women's sports. How am I supposed to do my final project if I can't use the word biological women?"
Krolczyk told Watters she has since been able to turn in her assignment to a different professor to be graded after she complained about the infringement on her free speech and academic freedom rights. She added her gender studies professor had called her a Trans Exclusionary Radical Feminist, or TERF, but she believes TERFS are the true feminists.
In her interview with the New York Post, Krolczyk — a former cross-country and track athlete — said her project was on the challenges female athletes have faced over the decades.
"If we as a student body take action instead of conforming to the professor's ideology, we can hopefully start changing our universities back to a place where stating simple biology isn't punished and conflicting opinions are encouraged," she told The Post.
"I can confidently say within my university and many across the country, dissenting opinions are frowned upon and the views of the professors are affecting their abilities to teach," she said. "Regardless of what the course is, and what the assignment is, a professor assigning a zero on something that was turned in on time and is of high academic value is extreme."
University officials told both The Post and Watters they are investigating the matter.
MORE: UT-Austin DEI glossary touts term 'wimmin' to avoid word 'men'
IMAGE: Jesse Watters Primetime screenshot
Like The College Fix on Facebook / Follow us on Twitter