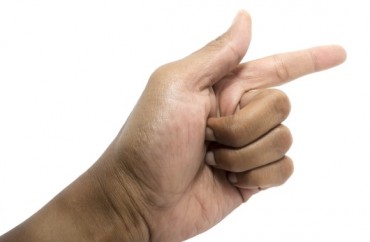 Apparently students should not make light of those who express grave concern over campus Trump messages — at least at Scripps College.
Charlotte Johnson, vice president for student affairs at the private women's college in Southern California, emailed a memo to the campus community that essentially stated as much after "#trump2016" was recently found scrawled on a whiteboard on a student's dorm room door.
Some students also had to attend a mandatory meeting in which Resident Advisors instructed students on how to behave if they see something offensive written on a peer's whiteboard, the Claremont Independent reports. They're not allowed to erase it – they have to cover it up with a paper towel or something and report it.
Johnson's March 28 memo was in response to reaction from some students to Scripps College's student President Minjoo Kim's decision to alert campus police to the "#trump2016" message. Kim, in an email to the campus, called the doodle "racist … violence" and provided peers with phone numbers to counselors.
RELATED: Women's college student president alerts police to 'Trump 2016' drawing, calls it 'racist act'
Some students and alumni on social media mocked the response as an extreme overreaction, prompting Johnson's admonishment.
"As communicated recently by SAS President, Minjoo Kim, on Saturday a Scripps student reported being targeted because she is Mexican-American. Specifically, the student indicated that an unknown individual wrote "#Trump2016″ on the student's whiteboard, which was affixed to the door of her residence. Further, it appears that the student, who reported the incident to Campus Safety, was singled out, as similar messages have not been discovered or reported in other residence halls," states Johnson's email, a copy of which was obtained by The College Fix.
"Ms. Kim's email has been criticized as an overreaction," the memo continued. "Scripps respects the First Amendment rights of its community members, and students who wish to advocate for a political candidate may certainly do so pursuant to all relevant policies and procedures."
"However, while it is true that under most circumstances the mere iteration of a presidential candidate's name would not be regarded as a form of harassment or intimidation, the circumstances here are unique. As reported in the media, 'Trump taunts' are a recent development and have targeted people of color."
The memo cited an article from Inside Higher Ed detailing the trend before concluding:
Given that the Scripps incident targeted a Mexican-American, who was the only student in her residence hall to discover the message on her door, the negative reaction registered by many members of the community is understandable and far from extreme. As all who have experienced can confirm, racist acts and intimidation are not always overt. But, for their targets such acts are always disconcerting. Here at Scripps, harassment, for any reason, is never acceptable.

If you believe you have been a target of intimidation or harassment, please do not suffer in silence. Such incidents may be reported to Campus Safety and the Dean of Student's Office, where they will be assessed and addressed under our disciplinary code. If you witness harassment or intimidation, report it. We are all responsible for ensuring the Scripps community is a safe place for everyone.
RELATED: Emory University president grovels before anti-Trump protesters
But the flaws in Johnson's argument have been pointed out by Scripps student Sophie Mann.
Writing in the Claremont Independent, Mann states that "Johnson pointed out that Scripps (in theory) respects the First Amendment rights of its students and community members, but that in this case, the 'circumstances are unique.'"
Mann continues:
Since the same sort of thing happened a week earlier at Emory University, with great cries of racism and threats against students who advocate for particular presidential candidates, it seems that there may be a special, more flexible version of the First Amendment for college administrators.

Scripps' need to constantly respond to hurt feelings and incidences of racism—whether real or imaginary—meant that residents of the dorm where this happened had to go to a mandatory meeting in which Resident Advisors gave out instructions on how to behave if you see something offensive written on a student's whiteboard. We were told that if we see something "offensive," we should not erase it; that would be like pretending it never happened. Instead, we're supposed to take a paper towel and tape it over the offensive message so that others walking down the hall need not be affected (see: triggered) by the message, then report it. Indeed the student who experienced this "act of racism" did not simply erase the whiteboard drawing and move on with her day, she wrote a notice calling attention to her status as a victim, hung it next to the #trump2016 message and posted it on Facebook. The takeaway? At a college for independent women, victimhood bequeaths status.
RELATED: Emory University students 'in pain' after pro-Trump graffiti appears on campus
Like The College Fix on Facebook / Follow us on Twitter