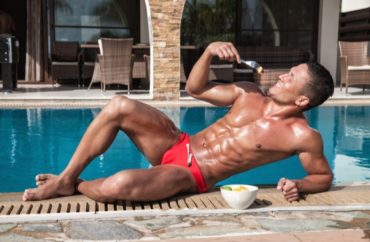 'I just kind of let it go until [the lieutenant] e-mailed me'
Remember Bruce Fleming, the flamboyant, politically incorrect, ex-model, beloved-by-his-students "speedo professor" who won his legal challenge against the U.S. Naval Academy for firing him?
There's more to the multi-decade story of the administration trying to get rid of the perennial bee in its bonnet, according to internal documents obtained by Washingtonian for a well-rounded profile of Fleming's ongoing fight with the Naval Academy.
Not only did administrators inflate accusations by a conservative Christian student, as highlighted by an administrative judge's ruling last summer, but they also pressured an Asian student to file a complaint against Fleming.
The professor's alleged interaction with the Asian student, a soccer recruit, was brought up at his trial last year. He denied having "deliberately mispronounced" the student's name and told him to "fuck off."
The real problem, according to Fleming, was the "plebe" had no business being accepted to the academy, "ranked highest among public liberal-arts college[s] in America":
"His writing was abysmal," Fleming says. "He had SAT scores of high 400s, 500s, which is below even our average—which in turn is 100 points below more respectable schools." Anyway, according to Fleming and an Academy report, he pulled up the plebe's SAT scores and tried to "diagnose" him. "How did he get into the Naval Academy with scores this low?" he asks. "The answer is he was an Asian and he was a recruited athlete"—a fact that Fleming says he patiently, but "unwisely as it turns out," explained to the plebe.
Naval Academy professor Bruce Fleming may be the ultimate antihero of academic freedom: a chauvinistic, egostic loudmouth that the brass can't seem to get rid of no matter how hard they try.https://t.co/DBinozYDaI

— Washingtonian (@washingtonian) April 13, 2020
The resulting complaint filed by the student prompted the academy to open yet another investigation, but it wasn't even the student's idea. The investigative report, obtained by Washingtonian, explains that "a lieutenant heard a student mention 'inappropriate conduct' involving Fleming and a plebe on the soccer team":
The lieutenant pressed for the plebe's name, called him in, and typed up the meeting. The readout made its way to [Provost Andrew] Phillips. Five days after that, the plebe sent in his typed complaint. "I just kind of let it go," the student later told investigators, citing Fleming's tenure and other factors, "until [the lieutenant] e-mailed me."
The Navy is still appealing last summer's ruling in Fleming's favor, which his lawyer says could take years, but the professor doesn't plan to apologize anytime soon, even for the "tactical" value:
"I was already on the gallows with the noose around my neck. And you're saying: Should I have been nicer to the guy who took me there or something?" he asked. "[Phillips] immediately moved to trashing my reputation, to sending out e-mails to all my students saying this man is accused of doing very bad things, he sets up a blah blah blah, and then he f—ing fires me. And I'm supposed to say, 'Oh, gosh, I'm really sorry I hurt this kid's feelings'? No, I don't think so."
Read the profile, which goes into much greater detail.
MORE: Fleming wins reinstatement, back pay after judge finds no 'actual misconduct'
IMAGE: Igor Kireev/Shutterstock
Like The College Fix on Facebook / Follow us on Twitter