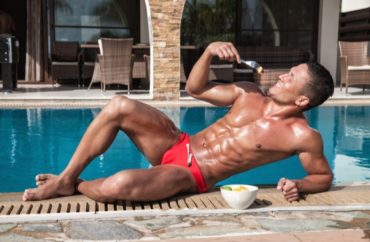 This 'irreverent, theatrical, fashion-conscious' professor offended religious student
The U.S. Naval Academy fired him for "unprofessional conduct" including "touching students without their consent and emailing them photos of himself partially clothed."
An administrative judge vehemently disagreed, saying Bruce Fleming's accuser was motivated by moral disagreements and anger at receiving low grades.
The federal Merit Systems Protection Board ordered the academy to reinstate him with back pay by the summer's end, the Capital Gazette reports.
A spokesperson for the academy told The College Fix it would implement the July 24 ruling, which becomes final Aug. 28, "unless the Department of the Navy files a petition for review," which has not been decided yet.
The so-called Speedo professor, a 31-year veteran of the academy who earned $130,000 a year before his dismissal, told the newspaper that his employer had been "looking for a way to get rid of me for 15 years" because of his unconventional style and criticism of the institution.
The investigation was less notable for the findings against Fleming than for the scrutiny his accuser faced during appeal, which destroyed Midshipman Matthew DeSantis's credibility. This wrinkle in federal personnel proceedings likely would not have been allowed in an ordinary college's Title IX investigation.
DeSantis filed a complaint against Fleming for his behavior in a freshman English class, according to the ruling by Administrative Judge Mark Syska, who serves on the federal Merit Systems Protection Board. Four other midshipmen added "more limited complaints" against Fleming. (The Gazette embedded the full 30-page ruling.)
The allegations included referring to two students as "right-wing extremists," describing students in demeaning terms such as "midsheeple," letting students tell dirty jokes in class, and "regularly discussing sexual matters unrelated or only tangentially related to readings in class, including transgender reassignment surgery and anal sex."
The most serious claims were that Fleming emailed "partially-clothed photos of himself to his students" and touched them "on the neck, shoulders, and back in class without their consent."
A faculty panel voted to remove him based on "Conduct Unbecoming a Federal Employee," citing seven allegations it claimed to have substantiated, including that he sent a photo of himself wearing a Speedo to an all-male class.
Syska explains why Fleming was such a "unique professor at the academy":
He is irreverent, theatrical, fashion-conscious, outspoken in his criticism of the academy (both in the classroom and his writings), and liberally sprinkles his classes with profanity and discussions of sexually-related topics (from condom use to transgender surgery). The appellant is also a "work-out fiend," and in good enough shape to regularly exercise with the well-conditioned midshipmen at the gyms and swimming pools on campus (where typical attire is swim trunks and other workout gear). Moreover, the overwhelming majority of his students enjoyed the appellant and his teaching style. Indeed, photographs were frequently taken in class, and they reflect a "loose" atmosphere – with the appellant dressed in costume (pirate), students trying on the appellant's designer sport coat or cowboy hat (with arms around each other's shoulders), carrying classmates around, and flexing their biceps en masse.
An administrator testified that more than 90 percent of Fleming's reviews from students over a 30-year period were positive, "an unheard of success rate," the judge said.
The Merit Systems Protection Board, the body that adjudicates appeals related to personnel actions for federal employees, reversed Fleming's removal and ordered back pay. https://t.co/sQnGqN4dcI

— Capital Gazette (@capgaznews) July 24, 2019
First time in his life the accuser got a bad grade
Syska was not kind to DeSantis, the primary complainant, who "greatly exaggerated" both his written and oral testimony. The midshipman eventually conceded he was the only person "suffering" and "crying" in Fleming's class, and that Fleming's "obscene" comments were really just the professor's "opinion that sexual matters should be discussed openly."
DeSantis seemed to have unreasonable reactions to Fleming in other settings, testifying that he was afraid the professor would sexually assault him during a "private help session" where Fleming simply discussed the student's written work.
The midshipman said he "agonized" over whether the Speedo photo constituted "sexual assault or sexual harassment," Syska wrote, calling his reaction "difficult to credit":
The former is nonsense while the latter is merely a long stretch. I note that taking photos was common in the appellant's class, and the record included photos of the entire class (including MD) flexing their biceps – flex being a writing concept the appellant encouraged. … In this context, MD's purported reaction appears feigned.
Syska called DeSantis's placement in Fleming's freshman class a "perfect storm," noting he came from a "conservative, religious family" and had always achieved good grades in his religious schools. This contrast with the "profane, irreverent, brutally critical … and highly theatrical [professor] had conflict written all over it."
DeSantis testified "with some indignation" that Fleming gave him the first "C" of his life, which illustrated how the professor "asserted dominance" over his students.
Syska dryly wrote: "That high grades might not come as easily in college as they did in high school, particularly in a hyper-competitive environment like the academy, did not seem to occur to him." The impression he gets from DeSantis's testimony is that his complaint was driven by "animus for his grade than any sort of genuine concern" about Fleming's style of pedagogy.
In a footnote, the judge said that DeSantis didn't help his credibility by writing a glowing email to Fleming late in the semester and then claiming in his testimony that he was "merely trying to curry favor and save his grade with this email." In other words, he admitted to "making misstatements … [to] serve one's personal interests," Syska wrote.
'Much of the charged conduct … did not appear to be actual misconduct'
The "right-wing extremists" complaint was based on a misconstrued email where Fleming criticized two students for "failing to justify their positions" and "provide supporting arguments for your positions" in an assignment, the judge said.
The evaluation of the sexual-comments complaint appeared to show incompetence on the part of Provost Andrew Phillips, according to Syska. "Phillips did not take into account that the assigned readings involved sexual topics that warranted class discussions," and didn't even know that Fleming had written on transgender issues – the subject of one of the readings.
Syska could not find any policy that barred discussions of sexual topics in class, so "it's difficult to see any misconduct." The same was true for the touching complaint: Another English professor, Anne Marie Drew, testified that other professors including herself had hugged students with no repercussions. Syska said there was "an element of line drawing based upon common sense" that Fleming did not cross.
The judge questioned whether sharing the Speedo photo was "actual misconduct" or simply a "dumb decision" on the part of Fleming.
Only DeSantis appeared to have been offended by the "comparative bodybuilder photos" of Fleming as a young man and an old man, which the professor had sent around because a student asked him how he "physically compared to himself twenty-years ago." (The professor had said he was illustrating the concept of reality versus an ideal from John Keats's "Ode on a Grecian Urn.") Even DeSantis had sent a photo of "a man jogging in a speedo" to Fleming, Syska wrote.
The judge said the academy didn't come close to meeting its burden of proof against Fleming.
Its primary complainant had "severe credibility issues," purported victims didn't express offense, and "much of the charged conduct … did not appear to be actual misconduct in the context of free-wheeling classroom discussions":
Further, I note that the panel members taught in subject areas where class discussions were unlikely to include profanity or sexual discussions – mechanical engineering and chemistry. … Yet, they readily recognized that profanity and the discussion of sexual topics could be completely appropriate in the appellant's class. Moreover, the one English professor who testified [apparently Drew] noted that profanity and sexual discussions were not uncommon when discussing literature (which frequently contains these matters).
Syska also noted the suspicious timing of the charges. Fleming "had taught in his same distinctive manner for decades" but was never given notice that his behavior was considered a violation.
Read the report and ruling.
h/t Inside Higher Ed
MORE: 30-year Naval Academy prof ousted for alleged touching, shirtless photos
IMAGE: Igor Kireev/Shutterstock
Like The College Fix on Facebook / Follow us on Twitter