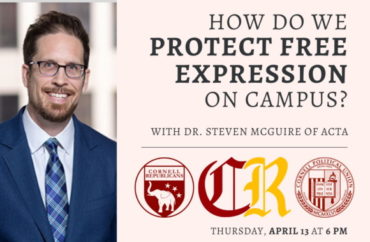 In November 2022, Cornell University found itself at the center of a nationwide controversy after a group of demonstrators shouted down conservative author and Cornell alumnus Ann Coulter during a speech.
Now, right-leaning groups at the Ivy League school are taking action to create a campus culture of free expression.
On Thursday, Cornell's College Republicans and the Cornell Review, an independent campus news publication, hosted Steven McGuire from the American Council of Trustees and Alumni to talk on the subject: "How do we Protect Free Expression on Campus?"
McGuire told The College Fix in a phone interview this week that "I think the climate for free expression on college campuses these days is demonstrably not good, and we need an all hands on deck approach to try and right the ship, and restore belief in free expression as an important value on college campuses."
McGuire said that in recent months, a variety of colleges and universities have hosted events that devolved into protesters shouting down speakers, including the disruption of Judge Kyle Duncan's address at Stanford University in March.
McGuire's appearance at Cornell comes just days after former University of Kentucky women's swimmer Riley Gaines was assaulted and essentially held hostage by a group of demonstrators at San Francisco State University, which has brought the debate over campus free speech back into the national spotlight.
McGuire also lamented the "illiberal" views of many on campuses today.
"We're also seeing some signs of increasing embrace of certain illiberal ideas – people questioning the values of free expression or advancing ideas about what a university is for that are at odds with traditional understandings of the university as an institution devoted to truth," McGuire said.
In spite of this challenge, McGuire argued some optimism is warranted. Though he said that it's "too early to tell" whether the tide is turning in a pro-free speech direction at universities, there are reasons for hope.
The day before his speech at Cornell, the university announced "they are going to be making the next academic year a year devoted to the theme of free expression, and they're going to be organizing all sorts of events and activities around that theme," McGuire said.
The announcement from Cornell stated the "significance, history and challenges of free expression and academic freedom will be explored as a featured theme throughout the 2023-24 academic year."
"Students, faculty and staff will be encouraged to engage with these ideas, and in civil discourse about them, through a wide range of scholarly and creative events and activities, from lectures to community book reads to artistic exhibitions and performances."
Cornell leaders also recently rejected calls from the student government for mandatory trigger warnings for controversial class topics.
Cornell Republicans President Avery Bower discussed why the club chose to host McGuire, emphasizing the "troubling" disruption of Coulter's speech in November 2022.
"Ann Coulter's attempt to speak at Cornell, her alma mater, was cut short by disorderly protestors who refused to let her speak. Instead of responding substantively to this heckler's veto, our student assembly chose to pass a trigger warning resolution the following semester," Bower told The Fix via email.
Bower added he hoped attendees would "be educated on free speech jurisprudence and have a greater appreciation for Cornell's mission of free inquiry."
The College Fix reached out to Robert Platt, a Cornell alumnus who assisted in organizing the event, for comment. He has not yet responded.
MORE: Cornell rejects student government resolution for mandating trigger warnings
Like The College Fix on Facebook / Follow us on Twitter